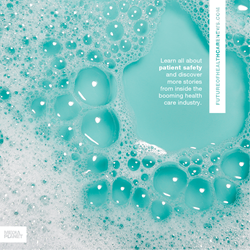 Medical errors harm nearly 1.5 million Americans annually.
New York, NY (PRWEB) August 19, 2016
Thanks to key industry leaders, including the Leapfrog Group, AHIMA, the Society for Healthcare Epidemiology of America, Society for Healthcare Epidemiology of America, Anesthesia Patient Safety Foundation and the Electronic Health Record Association, the campaign aims to educate professionals and patients alike on measures that can be taken to keep patients safe.
The print component of "Patient Safety" is distributed within today's edition of USA Today in New York, Los Angeles, Washington DC/Baltimore, Chicago, San Francisco and Atlanta, with a circulation of approximately 250,000 copies and an estimated readership of 750,000. The digital component is distributed nationally, through a vast social media strategy, and across a network of top news sites and partner outlets. To explore the digital version of the campaign, click here.
Medical errors harm nearly 1.5 million Americans annually. Medical errors occur in hospitals and doctors' offices through electronic medical records and even during surgeries. Through misdiagnosis, incorrect prescriptions, surgical complications or negligence, patients and health care professionals alike need to be better educated about these mishaps and how they can be prevented.
This campaign was made possible with the support of the American College of Medical Scribe Specialists, Posey company, Surfacide, Detecto, Vidashield, Sharn Anesthesia and Biomerieux.
About Mediaplanet
Mediaplanet is the leading independent publisher of content-marketing campaigns covering a variety of topics and industries. We turn consumer interest into action by providing readers with motivational editorial, pairing it with relevant advertisers and distributing it within top newspapers and online platforms around the world.