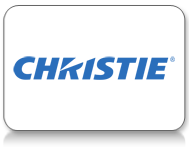 For this year's BIRTV, we are highlighting our strengths in providing our customers and audiences with complete cinema solutions
BIRTV/BEIJING (PRWEB) August 24, 2016
Christie®, a leader in creating and delivering the world's best visual and audio experiences, is demonstrating industry-leading digital cinema technologies at the Beijing International Radio, TV & Film Exhibition (BIRTV), taking place at the China International Exhibition Center in Beijing August 24-27.
The Christie booth located at #2A236 is drawing in the crowds with live demonstrations of the new Christie CP2208-LP 3DLP® laser phosphor cinema projector, which is capable of displaying DCI content, alternative and local content, and 3D and High Frame Rate (HFR) content to provide audiences with the best visual experience possible. Visitors can experience bright and vibrant visuals of the CP2208-LP in a custom-built internal theater at the booth, which also features the innovative Christie Vive Audio™ solution, offering rich, dynamic and detailed sound to complete the cinematic experience.
Also on show are innovative cinema lobby and immersive corridor concepts created by digital specialists from Christie 360, a highly specialized team dedicated to creating high-impact experiential media and interactive multiplatform applications suited for cinema environments. An engaging cinema lobby display comprising three Christie 65-inch interactive flat panels arranged in a herringbone pattern and driven by Christie Pandoras Box media players, will display contents by Christie 360 that visitors can interact with by simply touching the screens with their fingers.
Another highlight of the booth is the "Christie Corridor" – a full-sized immersive cinema passageway similar to those found in contemporary theater complexes. Designed by the Christie 360 team to enhance customers' pre-show experience, it comprises large extended screens displaying an array of cinema and Christie 360-related contents using Christie Captiva Series ultra short throw projectors and Christie Pandoras Box media players.
"For this year's BIRTV, we are highlighting our strengths in providing our customers and audiences with complete cinema solutions, which include awe-inspiring projected visuals, immersive audio, dynamic digital displays, contents and installations to offer the most exciting cinematic experiences," said Jason Pei, Deputy General Manager, Christie China. "By working closely with the Christie 360 team, we are able to engage movie-goers with captivating sights and sounds, both in the auditorium and throughout the lobby with specially created fixtures and contents."
Lin Yu, Vice President, Christie Asia Pacific, added, "BIRTV has been widely acknowledged as the most influential exhibition for the radio, film and television industries in Asia. This year, we are pleased to showcase our experience, capabilities and know-how in offering the most exciting and complete cinema solutions comprising state-of-the-art projection and audio technologies, as well as the proficiency of our Christie 360 team in creating high-impact digital experiences. We are confident that our comprehensive offerings will further reinforce Christie's position as a leader in the digital cinema market."
Presentation on Complete Cinema Solutions
In conjunction with its participation in BIRTV, Christie deliver a presentation titled Complete Solutions for Theaters and Cinema Lobbies, taking place at the Beijing Electronic Science and Technology Institute on August 25 at 11:20 a.m. Delivered by Joe Zhou, Senior Sales Manager (Entertainment Solutions), Christie China, the presentation will focus on how Christie's full suite of cinema solutions – which include RGB laser and laser phosphor projection technologies, Vive Audio, and high-impact digital experiences created by Christie 360 – can bring value to exhibitors and patrons, and deliver the best and most immersive cinematic experience.
About Christie®
Christie Digital Systems USA, Inc. is a global visual and audio technologies company and is a wholly-owned subsidiary of Ushio, Inc., Japan, (JP:6925). Consistently setting the standards by being the first to market some of the world's most advanced projectors and complete system displays, Christie is recognized as one of the most innovative visual technology companies in the world. From retail displays to Hollywood, mission critical command centers to classrooms and training simulators, Christie display solutions and projectors capture the attention of audiences around the world with dynamic and stunning images. Visit http://www.christiedigital.com.
Christie® is a registered trademark of Christie Digital Systems USA, Inc., registered in the United States of America and certain other countries.
Christie Vive Audio™ is a trademark of Christie Digital Systems USA, Inc.
DLP® is a registered trademark of Texas Instruments.