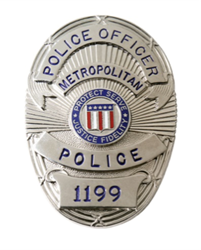 We are proud of our close working relationship with law enforcement in each of our communities and have partnered locally with them to create safe senior living environments at all Meridian Senior Living communities
U.S.A. (PRWEB) August 19, 2016
Meridian Senior Living, LLC is proud to announce they will be publicly and nationally recognizing all police officers and law enforcement by designating Friday, September 9, 2016 as their national Honor Our Police Officers Day. These dedicated men and women, who put their lives in harm's way by protecting and serving their country and their individual communities, deserve to be celebrated, especially in the wake of several recent and devastating events involving officers across the country.
Each of Meridian's communities work hand-in-hand with local law enforcement to provide a safe setting for their residents. To celebrate, each of these communities will be hosting their own events to recognize these important individuals for protecting the nation's senior population and assisting when they are in need. In addition to celebrating, every Meridian Senior Living community will be extending special move-in offers to area seniors in an effort to provide them with a secure, comfortable home in their later years.
"We are proud of our close working relationship with law enforcement in each of our communities and have partnered locally with them to create safe senior living environments at all Meridian Senior Living communities," shares Kevin Carlin, Principal and Chief Sales Officer of Meridian Senior Living. "We are excited as a national corporation to recognize these important and courageous people. It's also a perfect lead-in to kicking off Assisted Living week, running September 11th through the 16th."
Please join Meridian Senior Living in celebrating and recognizing these essential brave men and women for the incredible sacrifices they make daily on everyone's behalf. To find a Meridian Senior Living community near you, visit them online at http://www.meridiansenior.com.
About Meridian Senior Living:
Meridian Senior Living, LLC owns and operates senior housing communities across the United States and in China. With more than 10,000 beds, Meridian is currently the fifth largest assisted living provider and the third largest memory care provider in the United States. Meridian brings the internationally renowned Montessori-based Moments in Time to its senior communities, uniquely positioning its Memory Care at the forefront of the industry.
# # #