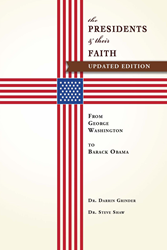 ...The Episcopal Church was a part of every turn in FDR's life, and he willingly made religion a part of his public life, concluding many of his radio broadcast 'fireside chats' with prayers for the nation...
(PRWEB) August 19, 2016
Recent political coverage begs the question: Who will be the next leader of the free world? Will it be Hillary Clinton or Donald Trump? Many voters are curious, maybe now more than ever, as to what faiths our politicians belong. Right in stride with this curious mix of religion and politics, Drs. Darrin Grinder and Steve Shaw have paired up once again to compose the updated edition of "The Presidents & Their Faith," released on August 16.
Dr. Grinder is Chair of the English Department at Northwest Nazarene University and Associate Professor of American Literature. Dr. Shaw is Professor of Political Science and Director of the University Honors Program at NNU as well. The two authors have worked together to come out with this updated version, highlighting presidents and their religious standings from George Washington to Barack Obama.
A fascinating and informative look at how every U.S. president exercised their personal faith, exerted presidential power, and led a religiously diverse nation, "The Presidents & Their Faith" chronicles not only the personal activity of each president, but the historical context of each president's decisions. At the nation's founding, for example, Northeast Presbyterians demanded explicit mention of Jesus in the Constitution. George Washington refuted them, saying that religious piety "was a matter best left between an individual and his God; religious instruction was the responsibility of religious societies, not the civil state." What drove Washington to make that argument, and what if he had lost?
What church did Andrew Johnson go to with his family?
Who did John F. Kennedy pray to?
Was public conception different from private experiences?
Why does it matter when it comes to faith and politics?
What's real and what's a show?
These questions and more are unpacked and examined in this title, leading to a whole new understanding of how religion and politics interfaced through America's history, and how they will play out in our future.
In this climate of religious and political tensions, "The Presidents & Their Faith" casts a civil, entertaining and insightful spotlight on the unique mix (and frequent mix-ups) of politics and religion in America, released on August 16 at all major retailers. Find more information at http://www.ElevatePub.com.