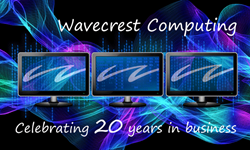 I am proud of what Wavecrest has grown to be. Twenty years is a great achievement for all of us. Our focus has always been on putting customers' needs first. Knowing that each of our customers is unique drives us to continue to grow. - Dennis McCabe
Melbourne, FL (PRWEB) August 23, 2016
Wavecrest Computing Inc., a leading global provider of advanced Web-security management, and reporting and analytics solutions, is excited to announce it has reached an important milestone in the world of Web security, 20 years in business.
Established in 1996, Wavecrest Computing is a mature, privately-held, customer-centric business. The company not only survived the dot-com bubble collapse and tumultuous 2007-2009 recession years, it thrived, fixing its place in the Web-security market as a well-established enterprise able to weather the storms of a challenging industry. Its history has reflected positive industry response and growth. This can be seen in its loyal client base, agile product lines, and successful partnerships, as well as its dedicated ownership and management. Wavecrest's core management team combined has well over 70 years of experience in monitoring Internet-usage trends.
The first product released, ProxyReporter, was a practical, first-generation log analyzer that gained rapid acceptance in the marketplace. With its focused emphasis on the key element of truly gaining control over the complex and ever-growing Internet, ProxyReporter's employee Web-use monitoring and valid, actionable reporting was the first of its kind. This product grew with the needs of customers and the complexity of the Internet, becoming known as the Cyfin® family of employee Web-use reporting and analytics solutions. The CyBlock® product line was introduced a short time later growing from one product to an entire family of agile employee Web-use security solutions.
"I am proud of what Wavecrest has grown to be. Twenty years is a great achievement for all of us. Our focus has always been on putting customers' needs first. Knowing that each of our customers is unique drives us to continue to grow, enhance, and upgrade our product lines. Providing these benefits and U.S.-based technical support, at no additional cost, just further sets us apart from our competition," notes Dennis McCabe, President and co-founder of Wavecrest Computing. "With our long-term team of experts and growing partnerships with Managed Service Providers and Resellers, new integrations such as ConnectWise®, and our stability in such a challenging market, we know that our choice to put customers and partners first is what makes us stand out from the crowd."
Today, Wavecrest's solutions are developed and built for every business size and type, including unique network environments and distributed enterprises. Providing visibility into and protection against shadow IT, insider threats, legal liability, workforce productivity, and Web security threats such as malware, ransomware, and trojan horses, Wavecrest's CyBlock and Cyfin product lines help companies keep their assets, network, and employees safe.
CyBlock employee Web-use security solutions provide advanced URL filtering and detailed reporting, guest Wi-Fi management, bandwidth throttling, real-time monitoring, cloud service management, and more, with simplified management and proactive features. Various deployments are available to fit any environment.
Cyfin employee Web-use monitoring and analytics solution provides detailed, drill-down reporting analysis, forensic data tools, bandwidth monitoring, cloud service analytics, and more. Cyfin supports virtually all commonly used log file formats, such as Forcepoint, IronPort, Palo Alto Firewall, SonicWALL, WatchGuard, Check Point, and many more. The built-in syslog server can manage the syslog data from syslog-enabled devices.
About Wavecrest Computing
Wavecrest Computing, headquartered in historic downtown Melbourne, FL, has provided commercial business and government clients with reliable, accurate Web-use management and Cloud Access Security Broker products since 1996. Managed Service Providers, IT specialists, HR professionals, and business managers trust Wavecrest's Cyfin and CyBlock products to manage employee Internet usage -- managing cloud services, reducing liability risks, improving productivity, saving bandwidth, and controlling costs. Wavecrest has clients worldwide, including General Electric, Lockheed Martin, Florida Department of Health, Siemens, Department of Homeland Security, and a growing list of global enterprises and government agencies. Proud to be in business for over 20 years and a GSA contract holder for over 16 years. For more information on the company, products, and partners, visit https://www.wavecrest.net.