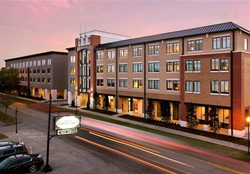 Tampa, Florida (PRWEB) August 22, 2016
December 2013 saw the opening of the Epicurean Hotel, the first built-from-scratch hotel in the United States to join Marriott International's 'Autograph Collection' of boutique luxury hotels. Developed jointly by Tampa based Mainsail Lodging and Development (Mainsail) and Bern's Steakhouse and operated by Mainsail, the Epicurean is a job creating enterprise in Mainsail's EB-5 program.
Even with the Epicurean's doors open, Mainsail's EB-5 program was able to continue to welcome foreign investors under the federal EB-5 visa program. Bridge or interim financing allowed the hotel developer to take out short term financing to help construct and develop the Epicurean, then as capital from foreign investors was received, it replaced that short term financing. The proposition was an attractive one to foreign investors that sought comfort over concerns with development, build time, construction risks and job creation that are often inherent in EB-5 projects.
The I-526 Petition approval marks the first step in the process for immigrant investors seeking to become permanent residents of the United States and confirms the bridge loan methodology used to provide financing to the Epicurean project has met the federal government's economic development and job-creation requirements.
The 'Waterline Marina Resort & Beach Club' situated on Anna Maria Island in Florida is Mainsail's next development; the project will also operate under Marriott's 'Autograph Collection' brand, and is a second job creating enterprise in Mainsail's EB-5 program that will again make use of the bridge financing concept.
About Mainsail Lodging and Development
Mainsail Lodging and Development is a Tampa-based hospitality company that develops and operates lodging products in the Southeastern US and the Caribbean. Their properties include hotels and resorts that are members of the Autograph Collection® of Marriott International and includes Scrub Island Resort, a private island resort in the British Virgin Islands.
The USCIS EB-5 Visa Program
In 1990, Congress created the EB-5 Immigrant Investor Program to stimulate the U.S. economy through job creation and capital investment in U.S. businesses by foreign investors. In exchange for investing in a business that creates jobs for American workers, foreign nationals and their families can become permanent residents of the United States.
Further Information
For further information on Mainsail Lodging and Development's EB-5 Program, visit http://www.eb5mainsail.com