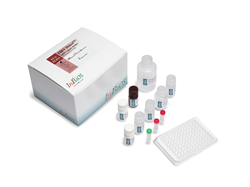 Seattle, WA (PRWEB) August 19, 2016
InBios announced today that it received an Emergency Use Authorization (EUA) from the FDA for its ZIKV Detect™ IgM Capture ELISA. The product is intended for the presumptive detection of Zika virus IgM antibodies in human sera collected from individuals meeting CDC Zika virus clinical criteria (e.g., a history of clinical signs and symptoms associated with Zika virus infection) and/or CDC Zika virus epidemiological criteria. This important diagnostic test kit contains all the necessary reagents to perform this assay and obtain results in four hours or less. Additional testing is required to confirm positive results from this assay.
The ZIKV Detect™ IgM Capture ELISA is not cleared or approved by the FDA. It is now available for use in laboratories in the United States that are certified under the Clinical Laboratory Improvement Amendments of 1988 (CLIA), 42 U.S.C. §263a, to perform high complexity tests, or by similarly qualified non-U.S. laboratories, as a part of a multi-test CDC recommended testing algorithm. As one of the conditions of authorization outlined by FDA, InBios will report any suspected false negative results of which it becomes aware to the FDA.
This test has been authorized only for the diagnosis of Zika virus infection and not for any other viruses or pathogens. This test is only authorized for the duration of the declaration that circumstances exist justifying the authorization of the emergency use of in vitro diagnostic tests for detection of Zika virus and/or diagnosis of Zika virus infection under section 564(b)(1) of the Act, 21 U.S.C. § 360bbb-3(b)(1), unless the authorization is terminated or revoked sooner.
Wendy Bagnato, Senior Marketing Manager of InBios said, "One of the challenges with developing a serology kit for Zika is the likelihood of cross reactivity with other flaviviruses such as dengue. This can be a particular problem for patients living in or returning from areas where both Zika and dengue (or other flaviviruses) are endemic, making it difficult to determine the status of the patient. InBios' kit has been designed to differentiate between the possibility of Zika virus and other flaviviruses, thus providing an important diagnostic tool for clinicians. We are very pleased to be able to offer this high quality kit in time to fill the critical demand in the US and its territories. We are acutely aware of the devastating effect this disease is having on pregnant women and believe this test will aid clinicians to diagnosis Zika virus infection faster."
About Zika virus:
Zika virus is a disease which is spread to people primarily through the bite of an infected mosquito (Aedes aegypti and Aedes albopictus). The most common symptoms of Zika virus disease are fever, rash, joint pain, and red eyes. Other symptoms include muscle pain and headache. Many people infected with Zika virus won't have symptoms or will have mild symptoms, which can last for several days to a week.
Complications:
An infected pregnant woman can pass Zika virus to her fetus during pregnancy or at the time of birth. Also, individuals infected with Zika virus can pass it to sex partners. Zika virus infection during pregnancy can cause a serious birth defect called microcephaly and other severe brain defects. Guillain-Barre syndrome (GBS), an uncommon sickness of the nervous system, is also very likely triggered by Zika virus infection in a small number of cases.
Recent Outbreaks:
Zika virus outbreaks may have occurred in many locations previously but have gone unrecognized because the symptoms are similar to other diseases such as dengue and chikungunya viruses. In May 2015, the Pan American Health Organization (PAHO) issued an alert regarding the first confirmed Zika virus infection in Brazil and on February 1, 2016, the World Health Organization (WHO) declared Zika virus a public health emergency of international concern (PHEIC). Local transmission has been reported in Americas, including recently in the United States. The U.S. has declared a Public Health Emergency in the U.S. territory of Puerto Rico due to the large number of ZIKA cases.
For more information on Zika virus, visit the CDC website: https://www.cdc.gov/zika/index.html
About InBios International, Inc.
InBios International, Inc., located in Seattle, WA, USA develops and manufactures high-quality proprietary diagnostic tests for infectious diseases. The facility is USDA licensed, FDA registered and ISO 13485:2003 Certified. InBios develops and markets a full range of diagnostic products affecting global public health including its FDA cleared Dengue Detect™ IgM Capture ELISA and West Nile Detect™ IgM Capture ELISA. The company also offers a full range of CE marked products including a Chikungunya ELISA kit. All products are manufactured in the USA.
Visit the InBios website: http://www.inbios.com
Follow us on Twitter: @InBiosUSA
References:
1. https://www.cdc.gov/zika/about/questions.html