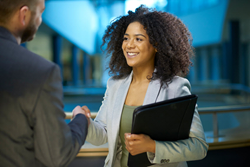 "While 97% of employers agreed that soft skills impact job performance, only 31% reported that their job candidates have satisfactory soft skills."
Vernon Hill, IL (PRWEB) August 24, 2016
The employer survey was conducted as a part of the efforts of the National Soft Skills Consortium being led by Amanda Opperman, Senior Institutional Effectiveness Specialist at Wonderlic. The Consortium was formed to improve the alignment of education, training, and development with the needs of the workforce.
Some highlights from this Survey include:

While 97% of respondents agreed that soft skills impact job performance, only 31% reported that their job candidates have satisfactory soft skills.
Despite that gap, only 31% stated they offer soft skills development to their employees.
90% of respondents stated they see value in soft skills training as a way to develop and evaluate employees, yet only 51% reported that they provide their employees with a clear understanding of the type of soft skills they value most.
Click here to request the full Survey report.
The 750+ respondents offered three specific ways that they'd like to contribute:
1. 49% expressed interest in providing ongoing input as active members of an Advisory Committee.
2. 68% expressed interest in participating in future soft skills research.
3. 85% expressed interest in improving their knowledge and understanding of soft skills development and training.
This data comes on the heels of groundbreaking developments in one of the Consortium's most impactful initiatives to date, which is the convening of a Soft Skills Steering Committee to guide the development of a Soft Skills Training Bootcamp. The Steering Committee has contributed to the Consortium's initiative by identifying and defining the most essential soft skills for individuals applying for entry-level jobs.
This resounding level of interest, engagement, and support can be interpreted as evidence of just how critical an issue the soft skills gap is to the leaders of our country's workforce. The Consortium has shared these Survey results with the Steering Committee and both are collaborating on how to equip employers with the data and resources needed to provide employees with more effective soft skills training and development.
The Steering Committee anticipates the Soft Skills Training Bootcamp will be the most impactful resource they can provide to address the issue directly and with the flexibility to meet the needs of various industries. The Steering Committee will focus on Bootcamp development during its August and September meetings.
The Soft Skills Steering Committee is made up of three major constituent groups: 1) Employers and hiring managers representing small, medium, and large employers across major industries; 2) Post-secondary educators; and 3) Organizations and non-profit entities serving the higher education sector.
Soft Skills Steering Committee Members
Chair: Amanda Opperman, Senior Institutional Effectiveness Specialist, Wonderlic
Members:
1. Emmanuel Benoit, President & CEO of Jouve North America
2. Bill Campbell, President, Campbell Comfort Systems, Inc.
3. Willis Dane, Owner, Aqua Control
4. Marcy Depew, Master Career Strategist and Management Consultant, Teal-Noir LLC
5. Merri Dillinger, AVP, Associate Testing & Training, Adecco Staffing
6. Scott Ellsworth, 2013-2015 Director, National Skills Coalition and Business Leaders United
7. Sandy Fowler, Director of Education and Institutional Effectiveness, Cambridge Junior College
8. Don Fraser, Higher Ed ReDesigner, Education Design Lab
9. Sheila Golden, HR Director, Wilkinson Real Estate Advisors, Inc.
10. Bruce Hohensee, President, Talent Driven Consulting
11. Dr. Jeffery Hollowell, Leadership Coach, Applied Executive Coaching, LLC
12. Andre L. Johnson, Corporate Trainer & Center Manager, Workforce Solutions for Tarrant County
13. Diane Jones, Senior Vice President and Chief External Affairs Officer, AJsquared Consulting; Former Assistant Secretary of Postsecondary Education, US Dept. of Ed.
14. Russ Merwin, Director of Training, Ryan Lawn and Tree
15. Pauline Owens, Accounting Manager, Showmen Supplies
16. Monnica Seyfang, HR Manager, Riffle Machine Works
17. Jennifer Shahan, State Director, Telamon MD
18. Nathan Singer, HR Generalist, Amarillo Reinforcements Plant
19. Trevor Stokes, Manager of Workforce Programs, Arizona Commerce Authority
20. Jackie Thornton, HR Director, Triton Management Group
21. Jo Lynne Varner, Administrator, Little Rock Pediatric
22. Heather Wood, Hospital Account Executive, Ecolab
23. Bob Gee, Founder & Trustee, American Meridian University
24. Nancy Jones, National Director of Graduate Placement, Concorde College
24. Jennifer Lasater, Vice President, Employer & Career Services, Kaplan University
25. Pat Lee, Placement Director, Vet Tech Institute
26. Christy Torkildson, Chief Academic Officer, Unitek College
27. Claudia Turner, Instructor, A.D. Nursing, Temple Junior College
28. Cory Werkheiser, Career Services Specialist, Patrick Henry Community College
29. SJ Barakony, Founder & CEO, Service Before Self Leadership
30. Kathleen deLaski, Founder, Education Design Lab
31. Tracy Petrillo, Chief Learning Officer, Educause
In addition to the companies represented on this Committee, more than 100 other employers are contributing to this effort.
To join the Committee's effort to improve the skills gap, or to learn more about the learning and educational objectives for the Soft Skills Training Bootcamp, contact Wonderlic.
About Wonderlic, Inc.
Wonderlic is a privately held company headquartered in Vernon Hills, IL and a founding member of the Association of Test Publishers. The company provides businesses and schools with a comprehensive library of highly regarded assessments and surveys for each phase of the hiring and student selection process. In its 75+ year history, Wonderlic has delivered over 300 million assessments and surveys to more than 60,000 organizations, government agencies, and accrediting bodies. http://www.wonderlic.com