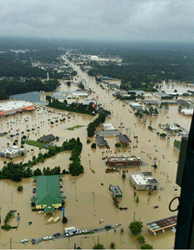 All Hands Volunteers priorities are to provide clean-up assistance to homeowners, recruit volunteers, and raise funds to fuel our effort.
Mattapoisett, MA (PRWEB) August 19, 2016
All Hands Volunteers, a leading disaster relief organization, has deployed experts and a growing team of volunteers to assist communities in Louisiana impacted by catastrophic flooding.
"The devastation in Louisiana is clearly huge," said All Hands Volunteers Director of US Response, Sherry Buresh. "The priority for us at this stage is to provide clean-up assistance to the affected homeowners, recruit volunteers to help those most in need, and raise critical funds to fuel our efforts."
The federal government declared a major disaster in Louisiana with the death toll at thirteen, 40,000 homes damaged, and an estimated eight thousand people in shelters. There are fears these figures may continue to rise with the ongoing rainfall.
All Hands Volunteers is a unique disaster response and rebuild organization that supports and manages volunteers after natural disasters strike. The organization brings manpower and expertise; embedding volunteers in communities that suffer great loss and need help in a myriad of ways to recover. The organization provides (at no charge) volunteer coordination expertise, training, safety equipment, accommodations, and meals to participating volunteers who can get themselves to the project site for any length of time. Says Buresh, "We are known for being nimble, collaborative, and professional in our response to the immediate and long term needs of those suffering in the aftermath of a natural disaster. We aim to put our expertise and passion to work immediately for those suffering in Louisiana."
All Hands Volunteers has enabled over 35,000 volunteers to help more than 100,000 families impacted by natural disasters all over the world and has received Charity Navigator's highest 4 Star Rating.
HOW TO HELP:
Those who want to support All Hands Volunteers' efforts in Louisiana can make a donation here or apply to volunteer at https://hodr.wufoo.com/forms/volunteer-application-louisiana-flood-response/.