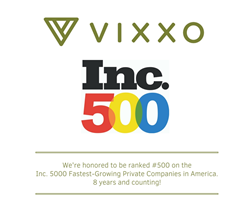 "Vixxo is honored to be named to the Inc. 5000 list for the eighth consecutive year," said Vixxo CEO, Jim Reavey. "To be included in this list is an exciting achievement for Vixxo and we are honored to be listed among many well-known, growing companies."
SCOTTSDALE, Ariz. (PRWEB) August 19, 2016
Inc. magazine released the 2016 list of fastest-growing private companies with facilities and asset management company Vixxo rounding out the Inc. 500 list.
The Scottsdale, Ariz.-based Vixxo jumped to #500 this year from #3831 in 2015 with more than 757 percent growth. The average company on the list achieved a three-year growth of 433 percent. In 2015, Vixxo's revenue increased to $693.6M.
"Vixxo is honored to be named to the Inc. 5000 list for the eighth consecutive year," said Vixxo CEO, Jim Reavey. "To be included in this list is an exciting achievement for Vixxo and we are honored to be listed among many well-known, growing companies."
Vixxo's continuous growth is the result of a vision focused on leading the next generation of facilities management and having the driven and diverse talent to realize their goals. Clients working with Vixxo include household brands from the restaurant, retail, convenience and supermarket industries who have transitioned to a data-driven mindset of proactively managing their business-critical facility assets.
Technology built around the data available from client facilities, Vixxo's Fusion work order management system brings together information allowing businesses to make more informed decisions, saving an average of 14 percent on annual facility spend.
Founded in 1980, Vixxo has climbed this respected list every year since 2009. Now, in 2016, Vixxo has nearly 950 associates throughout North America, with additional personnel growth planned through the end of 2016.
The Inc. 5000's aggregate revenue is $200 billion, and the companies on the list collectively generated 640,000 jobs over the past three years, or about 8% of all jobs created in the entire economy during that period. Complete results of the Inc. 5000, including company profiles, can be found at http://www.inc.com/inc5000.
To learn more about Vixxo and the solutions disrupting the facilities management industry, visit http://www.vixxo.com.
About Vixxo
Vixxo is a leading technology-enabled facility and asset management provider for many Fortune 500 clients in the restaurant, retail, convenience and grocery industries. Their solutions are designed to revolutionize and optimize clients' multisite portfolios by improving service delivery, reducing costs and providing strategic insights – all aimed at lowering total cost of ownership. Based in Scottsdale, Arizona, Vixxo maintains a national network of 150,000 service provider technicians and services over 65,000+ client locations.