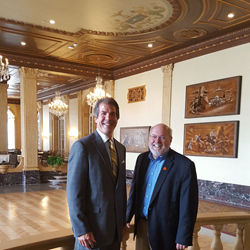 This hotel will once again be the gathering place for our community, within which new generations will create their memories as past generations have. It was a destination in its time, and today I'm proud to say it's ready to be one again.
Syracuse, NY (PRWEB) August 19, 2016
After a $76 million dollar restoration and over two years of dust, hardhats and the occasional discovery of hidden architectural gems, the Marriott Syracuse Downtown – formerly the Hotel Syracuse – is ready to welcome guests to the iconic hotel that at one time hosted guests ranging from Presidents Kennedy and Eisenhower to Elvis Presley, the Rolling Stones and John Lennon. Award winning Marriott operator, Crescent Hotels & Resorts will manage the legendary hotel as a full service franchised hotel.
"Bringing this hotel back to life was the goal of a committed group of stakeholders which included the city, county and state, Hayner Hoyt as well as so many others who helped make this a reality," said Ed Riley, owner and developer of the hotel. "This hotel will once again be the gathering place for our community, within which new generations will create their memories as past generations have. It was a destination in its time, and today I'm proud to say it's ready to be one again."
Those staying in Syracuse find themselves in the heart of downtown Syracuse, conveniently located near Armory Square and Syracuse University. The Marriott Syracuse Downtown is also the headquarters hotel of the Onondaga County Convention Center, also known as The Oncenter.
"This has been such a special project for Crescent Hotels & Resorts and myself personally," said Michael George, CEO of Crescent Hotels & Resorts and Watertown, NY native. "Crescent excels in opening and operating iconic hotels and has been thrilled to partner with Ed Riley and the entire project team in transforming the Hotel Syracuse to the spectacular Marriott Syracuse Downtown from the start."
Historical Elegance, Modern Luxury
Every facet of the 261-room hotel has been restored or rebuilt to maintain its historic elegance as well as offer guests the latest in modern amenities. Terrazzo floors and 20-foot columns adorn the soaring grand lobby along with a painstakingly restored 1940s mural behind the front desk and refurbished original 1924 chandeliers with furnishings by Harden and Stickley, both local companies. Each room and suite has been completely renovated for comfort and luxury and furnished with exquisite Stickley furniture. Remaining in each door is a rare built-in compartment called a servidor. Servidors, which were invented in the early 1900s, allowed hotel staff to pick up and deliver items without disturbing guests, a service luxury that the Marriott Syracuse Downtown continues for today's travelers.
Each guest can enjoy the convenience of high-speed Internet access, business centers and express check-in and check-out. The Marriott Syracuse Downtown will also offer one of Marriott's latest concepts: a top-floor exercise facility, located on the 11th floor of the hotel.
Beautifully Restored Ballrooms
From the time it opened, The Hotel Syracuse has been associated with grand wedding receptions, graduations, proms and other milestone events by so many Central New Yorkers. All three of the hotel's ballrooms have been beautifully restored – two of them to their original historic grandeur, and the third ballroom modernized for today's business needs.
The beloved Persian Terrace commands attention with the return of its original architectural details including softly arched windows, stately columns, hand-painted ceiling murals, a customized stage area, and a hand-laid wood dance floor. Accommodating up to 175 people, the Persian Terrace creates an intimate and formal setting for wedding ceremonies, receptions, and other social events.
The magnificent Grand Ballroom on the 10th floor of the hotel has been restored to show off its original enchanting balconies, floor-to-ceiling two-story windows, golden columns, crystal chandeliers, skyscape ceiling, and original hand-laid wood floors – which all leave guests speechless. Brides and grooms of weddings booked in the Grand Ballroom also enjoy newly renovated and expanded Bride and Groom Suites, which adjoin the Grand Ballroom on the 10th floor and allow for pre-wedding ceremony or reception dressing areas, as well as a private location for still and video wedding photography.
The third ballroom, the former Imperial Ballroom, has been renovated to become the new Finger Lakes Ballroom, which is now one of the most technologically advanced meeting spaces in the region.
Meeting Services and Technology Earn International Recognition
The Finger Lakes Ballroom at the Marriott Syracuse Downtown has been awarded membership into the International Association of Conference Centres (IACC). Members of IACC need to meet the highest quality standards in design, food and beverage services, and meeting technology. Conference and meeting planners will find built-in audio and video systems and flexible conference rooms built for groups of ten to 600 people.
Modern design, skilled staff members, upscale dedicated food and beverage services and state-of-the-art high-tech services that exceed IACC standards were designed to provide a level of service that is practiced by the best meeting facilities in the world.
Specific high-tech meeting and conference services include:

High-speed wireless Internet
Built-in video systems with the latest LCD/LED technology to accommodate presentations and videoconferences
Dedicated tie lines to route audio, video and data signals to and from conference rooms
Advanced acoustics engineering designed to reduce unwanted sounds and noise
Point-source speakers in each conference room which can easily be controlled by the presenter
A Culinary Experience
Crescent Hotels & Resorts' culinary arm "Crescent Culinary" led a significant effort throughout the renovations to put together some of the greatest dining outlet designs and teams for this hotel. Crescent's expert culinarians lead the concept development, branding, design and operating plan of the dining outlets, including menu and recipe development for specialty foods and cocktails at several themed restaurants, and culinary training to ensure all restaurants provide the highest levels of service. Throughout this partnership, the experts at Crescent partnered with local teams to incorporate many local products and inspiration.
Hotel guests and all diners in the Greater Syracuse area will enjoy the feature restaurant Eleven Waters, a Finger Lakes Style bistro open now for breakfast, lunch and dinner; and the Cavalier Room for cocktails and small plates during lunch and dinner. In addition, restaurants Shaughnessy's Irish Pub and the Legacy Steakhouse will open later in the year to the delight of the Syracuse community and hotel guests.
Seasonal packages are available starting at $199. For more information or to inquire about booking events, please visit http://www.marriottsyracusedowntown.com or call (315) 474-2424.
# # #
About the Marriott Syracuse Downtown
The Marriott Syracuse Downtown (formerly Hotel Syracuse) is a historic hotel originally opened in 1924, located at 100 East Onondaga Street, Syracuse, New York. The hotel closed in 2004, and is now again opened, thanks to a $76 million renovation by the Hotel Syracuse Restoration Company that integrated the landmark's historical components with modern amenities, providing a unique, upscale experience for business and leisure travelers as well as a new local venue for corporate meetings, weddings and social events including a community meeting room for use by local non-profits. The hotel is also the official headquarters hotel for the Onondaga County Convention Center. The property has 261 guest rooms, over 41,000 square feet of meeting, wedding, and event space including a completely modernized Finger Lakes ballroom, two historic ballrooms, five distinctive in-house restaurants and bars, and eight IACC-certified meeting spaces. For more information, visit http://www.MarriottSyracuseDowntown.com.
About Crescent Hotels & Resorts
Crescent Hotels & Resorts is a nationally recognized, top-3 operator of hotels and resorts. Crescent currently operates over 100 hotels and resorts in 27 states in the US and 5 provinces in Canada. Crescent is one of the few elite management companies approved to operate upper-upscale and luxury hotels under the brand families of Marriott, Hilton, Starwood, Hyatt and IHG. Crescent also operates a collection of legendary independent hotels and resorts. Crescent's clients are made up of hotel REITs, private equity firms and major developers. For more information, please visit http://www.chrco.com or connect with Crescent on LinkedIn.