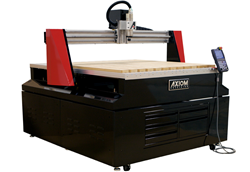 We are excited to launch our new Elite Series CNC routers. Thanks to their robust servo drives, these machines are perfect for the serious fabricator
(PRWEB) August 21, 2016
Axiom Precision is excited to announce the expansion of their line of industrial quality CNC routers. The new Axiom Precision AutoRoute Elite Series of CNC routers utilizes the most modern servo-driven technology to advance small-format CNC routing.
Todd Damon, President of Axiom Tool Group, Inc. said, "We are excited to launch our new Elite Series CNC routers. Thanks to their robust servo drives, these machines are perfect for the serious fabricator, where speed and accuracy are paramount. With cut speeds up to 320 IPM, and repeatability of .05mm, our Elite Series CNC machines offer far greater capabilities than you'd expect, given their attractive price."
Axiom offers two new Elite Series machines to choose from. The AR8 Elite is a 2' x 4' machine, and the AR16 Elite is a larger 4' x 4' alternative. Both offer speed, torque and precision, which can only be found in larger commercial machines. Axiom's AR16 Elite 4' x 4' CNC will be on display in booth #8435 at IWF 2016 in Atlanta, GA. August 24-27. These new machines are available for pre-order now at http://www.axiomprecision.com, and will begin shipping to customers in October.
The Axiom Tool Group, Inc. is a manufacturer and world-wide distributor of small-format CNC routers. Since 2014 the Axiom Tool Group has been building truly unique CNC routers, which are marketed under the 'Axiom Precision' brand. These innovative machines integrate technology and components from the industrial market into machines that fit the budget and size constraints of the small shop. Axiom offers CNC solutions in a wide range of sizes for both hobbyist and industrial applications, and is an industry leader in machine innovation, product quality and customer service. The Axiom Tool Group is headquartered in Columbus, Ohio.