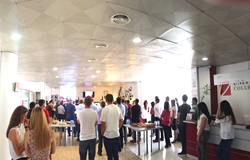 We have come here to celebrate the birthday of a man, to whom we owe so much of our own existence
Prishtina, Kosovo (PRWEB) August 22, 2016
Two Kosovo institutions celebrate 70th birthday of President William Jefferson "Bill" Clinton, as a sign of support and admiration for President Clinton and his family.
Universum College, one of Kosovo's most respected higher education institutions in collaboration with the "Friends of America", a local non-governmental organization devoted to strengthening the friendship between United States and Kosovo, have hosted an event to celebrate President Bill Clinton's 70th birthday.
This might be quite unusual for a country so far away from US but President Bill Clinton is a local hero here and the main boulevard in Prishtina is named after him along with hosting his statue.
"We have come here to celebrate the birthday of a man, to whom we owe so much of our own existence", stated Suat Berisha, the Chairman of Universum College, in his introductory note. Mr. Berisha mentioned the contribution of President Clinton during the 99's, culminating with the bombing of Yugoslavia and the liberation of Kosovo from Serbian forces in the aftermath. Kosovo declared independence in 2008, again mostly thanks to the United States and is today recognized by 112 countries.
Agim Rexhepi, President of "Friends of America", spoke about the role of President Bill Clinton not only in the liberation of Kosovo but also his global contribution to democracy and well-being. He also mentioned the nomination of Hillary Clinton for the President of the United States and urged all Albanians around the world to support her during the elections.
A plaque of gratitude will be sent to President Clinton by Universum College and even a cake was cut for his birthday.
In 2008, Kosovo declared independence after a longtime support and contribution from the United States. Kosovo's statehood is now recognized by more than 110 countries, including USA, Canada and the majority of EU member countries.
###
About Universum College
Universum is ranked in the Eduniversal Top 1000 Business Schools in the World as the only Business School from Kosovo. More information can be obtained at http://www.universum-ks.org
About Friends of America
Friends of America was established right after the war in Kosovo to commemorate the deep friendship between Kosovo and the United States.