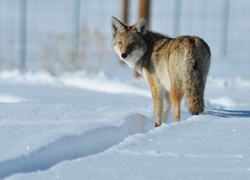 ...wild coyotes live an average of two and a half years, whereas urban coyotes can live more than thirteen years...
Chicago, IL (PRWEB) August 19, 2016
In this week's blog post, Bird-X discusses how cohabitating with one of the most feared pest animals out there—the coyote—can be possible with the use of humane pest control.
One National Geographic article writes that the American coyote population has been victim to a mass crusade, as coyotes are commonly associated with being terrifying predators that hunt livestock. However, scientists affirm that coyotes aren't known for feeding on larger game animals, but on rodents, rabbits, and even fruits and vegetables.
Because of this, coyotes have begun to seek refuge in large metropolitan areas like Chicago and New York City, where people do not trap, poison, or shoot them. This transition has had a strong impact on their longevity—wild coyotes live an average of two and a half years, whereas urban coyotes can live more than thirteen years, according to the same National Geographic article.
"They're doing very well living among us, dining on the rats and mice that our villages and houses produce in such abundance," author Dan Flores said.
Although coyotes have a beneficial top-down effect on the ecosystem, it is still important to discourage them and other pests from entering yards and neighborhoods, as coyotes may attack domestic pets that roam free. These nocturnal creatures are also known to howl in packs during the night, which can disturb nearby residents.
Bird-X recommends choosing humane pest control options that ensure that your family and pets stay safe, while not negatively impacting the ecosystem or unnecessarily harming pest animals. One pest deterrent option is the Critter Blaster™ PRO, a four-speaker system, sonic pest control system designed for use up to six acres that aggressively harasses pest animals, like coyotes, with digitally recorded sonic sounds. Other alternative methods include the Yard Gard™ and Solar Yard Gard™, which are both silent-to-humans, ultrasonic, outdoor devices that protect 3,000 to 4,000 square feet. These devices emit high-frequency sound waves that are silent to most humans, but irritating to pests. Over time, pests are conditioned to avoid an area where this threat is perceived, making them seek refuge in untreated areas.
Bird-X recognizes the importance of deterring pest animals from unwanted areas safely, and is dedicated to providing humane pest management solutions across the globe. They manufacture a complete line of unique pest control products with an unmatched focus on quality, efficacy, and customer service. For information on any Bird-X's humane pest control products, please call customer service at (800) 662-5021.