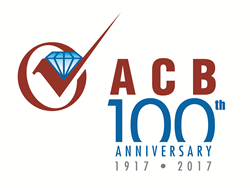 We've accomplished a lot in the last hundred years. It is worthy of great celebration.
New York, NY (PRWEB) August 24, 2016
A milestone is fast approaching for The Advertising Checking Bureau (ACB), with planning underway for celebrating the company's 100th anniversary on March 5, 2017. Since its founding in 1917, ACB has developed and maintained unique services and systems that effectively support the Co-op Advertising, Trade Promotion Marketing, Newspaper and Sales Incentives Industries.
The celebration will not only focus on ACB's long standing status as an industry leader, but will also acknowledge employees' talents and dedication to ACB's success over the past century. The festivities will concentrate on the company's rich history in the advertising and media community with a look towards the future and the next hundred years.
"We are so proud to join the ranks of the elite companies that have been in business for one hundred years. Our ability to thrive in our challenging and changing marketing services segment is a reflection of the expertise and resilience of our employees. We are fortunate to have the depth of talent that infuses our operations and client services with the technology, versatility and energy to drive us into our next century. We've accomplished a lot in the last hundred years. It is worthy of great celebration." Brian McShane, President, Advertising Checking Bureau
The Advertising Checking Bureau, Inc. (ACB), established in 1917 in New York City, was founded by Walter B. Katzenberger with his original vision to serve as a central clearing house for newspaper ad copies. ACB is once again headquartered on Third Avenue in New York City with operations and technology facilities in both Memphis, TN and Tempe, AZ.
Over ten decades, ACB has expanded its service portfolio through the development of Co-op Advertising and Trade Promotion Marketing Services, Competitive Ad Tracking and Sales Incentive Programs. As the advertising industry evolved over the century, ACB developed new services and deployed new technologies. Today, with over 400 employees and 3 locations, ACB continues its successful journey into the next century.
ACB remains uniquely qualified to address the Marketing Services needs of manufacturers, service providers and their advertising agencies. For more information on ACB services covering Co-op Advertising and Compliance Program Administration, Competitive Ad Tracking and Sales Incentive services, please visit http://www.acbcoop.com.