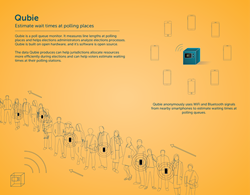 (PRWEB) August 24, 2016
Free & Fair today announced the availability of Qubie, an open source wireless device that measures wait times and delays at U.S. polling places on election day by analyzing smartphone signals. Qubie is a free tool that U.S. state and local jurisdictions can leverage for the 2016 Presidential Election to improve the voter experience and polling place efficiency.
The Presidential Commission on Election Administration, formed by Executive Order 13639 in response to the long lines witnessed in the 2012 elections, published a final report that included this key recommendation: Election officials should keep track of wait times at individual polling places using simple management techniques, such as recording line length at regular intervals during Election Day and giving time-stamped cards to voters during the day to monitor turnout flow.
Qubie is a more sophisticated proposed solution to this problem that reduces the number of workers needed at each polling station. The open source platform costs significantly less than the Presidential Commission recommendation of printing out and managing stamped cards for a single election. Qubie also aims to provide real-time updates, so workers can be re-allocated to other nearby polling places based on crowd sizes and voters can access real-time waiting time data for their polling places via mobile and web applications.
How it Works:
Since all powered-on WiFi devices emit various standard signals regardless of whether they are connected to a network, and since each such device broadcasts a unique identifier, the current Qubie prototype can detect individual devices and use their signals to determine how long they remain in the polling place. Qubie does this in a privacy-preserving way; the goal is not to track individuals but rather to help make elections more efficient by providing data about the flow of voters through polling places. Qubie also aims to offer privacy preserving, real-time features such as:

detailed, privacy-preserving logs of voter wait time for election administrators to analyze and optimize their polling places on and after Election Day,
automatically constructed analytical model of the polling place to determine where the pinch points of its election process are, and
the ability to help election officials automatically publish the current wait time at all polling places on Election Day.
"We launched Free & Fair as an election technology startup that intends to fundamentally change how election technology is created and deployed by making secure, transparent and verifiable election systems available as open source," said Free & Fair Lead Engineer Dan Zimmerman. "Qubie, which is built on open hardware and open source software, will advance this mission by helping election officials better understand the needs of polling places with straightforward queue data and providing voters with easy access to information that can improve their experience."
Qubie is available for jurisdictions to implement themselves at no cost. For more follow Qubie's Hackaday.io page: https://hackaday.io/project/11047-qubie
About Free & Fair
Free & Fair is a spinoff of Galois, an R&D organization that specializes in developing provably correct security technologies for systems critical to national security. Galois, founded in 1999, performs computer science research and development for commercial, defense, and intelligence industries. Galois regularly releases multi-million dollar security projects as open source for public benefit. Free & Fair seeks to apply these proven Galois techniques and approach to help election officials move from restrictive, proprietary vendor systems with expensive short-term licenses to high assurance, open source software that they own outright.