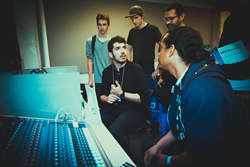 It is such a great opportunity for current and former students as well as the public to meet professionals in the audio field.
New York, NY (PRWEB) August 22, 2016
SAE Institute, a premier provider of creative media education, will partner with the International Music Software Trade Association (IMSTA) to host IMSTA FESTA, a celebration of music technology, at its New York campus on Saturday, September 24 from 11am to 6pm.
Free to attend and open to the public, IMSTA FESTA is a one-day networking and learning event that brings together a group of top audio technology companies in an exciting environment that provides face-to-face interaction with music makers. Attendees are set to include music entrepreneurs, professional and semi-professional musicians, DJs, songwriters, music producers, audio engineers, music students, and music educators. Anyone who makes music or is interested in the art of music making is sure to benefit from this event in numerous ways. You'll find new opportunities to make connections, gain knowledge and ideas, and accelerate careers, as well as learn about new techniques in music production, legal software use, and using music software to enhance their skills.
"We are excited to partner with IMSTA FESTA again in 2016. It is such a great opportunity for current and former students as well as the public to meet professionals in the audio field," says Steven Kashkin, Campus Director at SAE Institute New York. "The team at IMSTA is a pleasure to work with and we know that they are going to come through with another amazing event this year."
IMSTA FESTA is known for bringing together the best minds, innovators, heavyweight music industry professionals, and music and audio companies to share fresh perspectives, keen insights and first-hand knowledge on the state of the music business, music production, technology, and more.
Scott Jacoby, acclaimed composer, GRAMMY® award-winning writer, producer, engineer, mixer, musician and recording artist, Founder/President of EUSONIA Records, Owner of EUSONIA Studios, CEO of SCOJAC Music Productions will deliver the keynote address at IMSTA FESTA NYC 2016. With his work spanning all genres of music, and collaborations with notable musicians including John Legend, Vampire Weekend, Sia, Rachel Platten, Laura Izibor, Jose James, Vanessa Hudgens, Fabolous, Naturally 7, Cory Henry, Chimene Badi, Jackie Evancho and Ronnie Spector, his speech is sure to add a great deal of excitement to the lively atmosphere.
2016 IMSTA FESTA NYC Highlights:

A keynote speech by GRAMMY® award-winning writer, producer, engineer, mixer, musician and recording artist, Scott Jacoby
Network with some of New York's heavy hitters in the music community
Explore non-stop live demonstrations of the latest studio gear, software, and equipment from a line-up of reputable software manufacturers
Get hands-on with the latest music production products on the market
Register for a class in the IMSTA Master Class Series to gain exclusive knowledge on the most coveted products currently on the market
Learn tips and tricks on how to maximize the efficiency of production tools
Win prizes from top audio technology companies
Receive a gift for visiting exhibiting companies
Raffle and door prizes will be distributed randomly to attendees who check-in to the event at the end of each panel discussion
IMSTA FESTA NYC will take place on Saturday, September 24 from 11:00am – 6:00pm at SAE Institute New York: 218 West18th Street, 4th floor, New York, NY 10011. Admission is free and open to the public with online registration at imsta.org
About SAE
SAE Institute provides aspiring creative media professionals with a foundation of practical theory and valuable hands-on training in their chosen areas of concentration. Under the guidance of industry-experienced faculty, students gain the essential experience they need for entry-level jobs in the creative media industry. Students are supported in their job searches by SAE's international network of alumni, many of whom are leaders in the music, film, game arts, and live performance arenas. SAE Institute offers programs in Audio Technology in seven US campuses, along with a Music Business program at select locations, all fully accredited and focused on preparing students for employment upon graduation. Bachelor's Degree programs in Animation & Visual Effects, Digital Filmmaking, Game Art & Design, Interactive Audio, and Sound Arts are available at SAE Institute San Jose and SAE Expression College in the San Francisco Bay Area, formerly Ex'pression College. SAE Institute Group, Inc. is a part of Navitas LTD. Learn more at usa.sae.edu.
About Navitas
Navitas is an Australian global education leader, providing pre-university and university programs, English language courses, migrant education and settlement services, creative media education, student recruitment, professional development, and corporate training services to more than 80,000 students across a network of over 120 colleges and campuses in 31 countries. Learn more at Navitas.com.