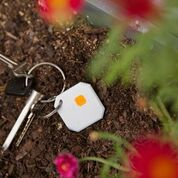 I'm excited to see the response from backers for the device, which will be a godsend for those people who continually lose and misplace items around the house,
Brisbane, Australia (PRWEB) August 19, 2016
iKON Tracker, the revolutionary device that tracks up to 10 items and offers the widest search range of any tracking device on the market today, has surpassed its $10,000 campaign goal on crowdfunding website Indiegogo.
"I'm excited to see the response from backers for the device, which will be a godsend for those people who continually lose and misplace items around the house," said iKON Tracker Inventor Adedayo Charis. "In addition to its wide search range, I believe it's geo-fencing capability and other tech features are also resonating with the crowdfunding audience in the U.S."
Designed to help consumers end the unwanted, time-consuming version of 'hide and seek' they endure when trying to locate personal items, the iKON Tracker is packed with technology despite its small size. iKON also serves as a remote camera button for taking selfies - allowing selfies to be taken from a farther distance than the length of one's arm.
With a technologically-advanced item locator, the iKON Tracker can find up to 10 items and has a search range of 70 meters/76 yards – the greatest distance ever for a personal tracking device. Its ringer and LED light make finding misplaced items quick and simple, even in the darkest and smallest spaces where they are lost.
Compact and portable, iKON Tracker can be used on almost any item big or small, including car keys, wallets, purses, smartphones and other valuables – including pets and people.
"Once you clip, hook or stick an iKON tracker to any favorite item, you'll have the peace of mind in knowing it will never get lost again," Charis said.
To prevent users from leaving the house or office without a certain item, the iKON Tracker reminds them with an alert. This is possible with the use of state-of-the-art Geo-fencing. When the user moves past this virtual line, the iKON Tracker app will send a notification to the user's smartphone to remind them of what important tagged-item was left behind.
Probably the most important item most people carry these days is a smartphone, but with the iKON Tracker losing a phone is virtually a thing of the past. With the simple double-click of the iKON phone-finder function, the misplaced phone will start ringing when in range.
Charis notes that research shows the average person spends between 15 to 60 minutes trying to find up to nine misplaced items every day – and many are never found, resulting in a loss of valuables representing more than $5,000 over the course of a lifetime.
"Not only does the iKON Tracker make people more productive and help them avoid the stress of endlessly searching for a misplaced or lost item, it may actually save them a lot of money in the long run," he said.
Also, should a personal item with an iKON Tracker tag get stolen, the user can activate a crowdFINDING function that sends an alert to all other iKON users. If any iKON user comes within range of the stolen item, the app will send an alert about its whereabouts, along with its GPS location, to the owner.
Additional iKON Tracker features include:

Bluetooth compatibility
Small, easy-to-carry size (35 x 35 x 5 millimeters, or 1.3 x 1.3 x 0.5 inches)
A water-resistant, shock-resistant casing
Customizable capabilities with iKON skins
A selfie-assist button
A multi-functional button
iKON Tracker is available for pre-order on Indiegogo with early-bird pricing starting at just $26 (USD).
For more information or to pre-order the iKON Tracker, visit iKON on Indiegogo.
About iKON Tracker
iKON Tracker is an Australian company founded in 2015 that creates new and innovative consumer products not available on the market today. The company's first product, the iKON Tracker, helps consumers stay connected with up to 10 of their most valuable items whether they are lost or stolen. The product's tagline is "Take control of your items, one iKON at a time. Lost? Found. Simple." For more information, visit ikontracker.com.