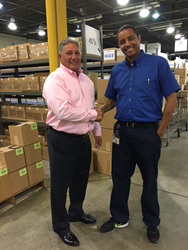 I look forward to an exciting future with this great company, which has made me feel like more than just an employee
Holbrook, New York (PRWEB) August 22, 2016
Guaranteed Returns® extends their congratulations to Bruce Cotterell on celebrating his 10th year anniversary with the company.
Bruce joined Guaranteed Returns®, founder of the pharmaceutical returns industry, in August 2006 as a processing department material handler. Since joining the company, Bruce focused his energy on making positive contributions in the GRx processing center and over the past 10 years, has been promoted several times, most recently to processing manager. Throughout his years with the company, Bruce has been an essential part of our processing center operations team. His hard work and attention to detail have created a more reliable and efficient processing operation. At this career milestone, we congratulate Bruce for the part he plays in maintaining our performance standards and commitment to excellence.
"I am extremely grateful for the experience and opportunities that Guaranteed Returns has provided for all employees including myself. Throughout my 10-year employment with Guaranteed Returns, I have gained an abundance of knowledge regarding the reverse distribution industry, thanks to the management team. I look forward to an exciting future with this great company, which has made me feel like more than just an employee," said Bruce Cotterell, processing manager.
About Guaranteed Returns®
For over 25 years, Guaranteed Returns® has provided pharmaceutical return services to hospital, government, independent retail, chain-store, LTC, Mail-Order and clinic pharmacies. Local GRx on-site service representatives are highly valued by customers for their professionalism, trustworthiness and for "going above and beyond." Business review consultations, inventory management assistance and unbeatable customer service are just a few of the attributes that customers say sets GRx apart.
Contact Guaranteed Returns® at 1-800-473-2138, or on LinkedIn.