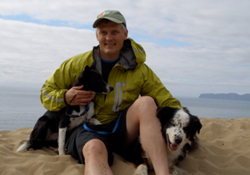 This is the first of its kind in the canine stem cell field and builds upon more than a decade of commitment to an evidenced-based approach to delivering regenerative medicine to our profession
Seattle, WA (PRWEB) September 01, 2016
Scott Gustafson, DVM, DACVS will be presenting VetStem Biopharma's preliminary data from the completion of a field clinical study of its canine osteoarthritis stem cell product, currently under formal development for FDA approval. The product is being co-developed with Aratana Therapeutics (Kansas City, MO) and will be marketed in the US by Aratana. This product, termed AT-016, is an allogeneic adipose stem cell product for the treatment of osteoarthritis in the dog. The formal FDA Investigational New Drug Application was filed in 2011. Dr Gustafson will be presenting Canine Allogeneic Mesenchymal Stem Cells Osteoarthritis a Prospective Trial on Thursday October 6th at 2:15pm during the Regenerative Medicine in Orthopedics session.
Dr. Gustafson received his DVM from Oregon State University and Washington State University in 1985. He received his MS in Veterinary Surgery from Colorado State University in 1989 and became a Diplomat of the American College of Veterinary Surgeons in 1990. Dr Gustafson performs orthopedic, soft tissue, arthroscopy, laparoscopy, thoracoscopy and cancer surgeries. Dr. Gustafson played a major role in developing the small animal teaching hospital and small animal surgical curriculum at OSU, and taught small animal surgery at Oregon State University College of Veterinary Medicine. He has utilized VetStem autologous Stem Cell clinical applications since 2006 and has treated over 60 animal patients. He has lectured nationally on Stem Cell Therapy and was one of the investigational study veterinarians that participated in this phase of the study. Dr. Gustafson is the current owner of Surgery4Pets in Willamette Valley, Oregon.
The American College of Veterinary Surgeons Summit will be held in Seattle, WA, from October 6th through the 8th. The Summit will feature over 325 lectures covering the latest clinical and research information in the surgical and medical fields. Internationally recognized specialists will discuss their clinical experience as well as evidence-based scientific advances. The summit will also offer 15 laboratory sessions, including Canine Sports Medicine, Wound Management, and Minimally Invasive Surgery Training for Technicians.
The VetStem CEO said, "We are excited to share our investigational study. This is the first of its kind in the canine stem cell field and builds upon more than a decade of commitment to an evidenced-based approach to delivering regenerative medicine to our profession. Dr, Gustafson has been one of the pioneers in incorporating regenerative medicine into his surgical practice."
About VetStem Biopharma
VetStem Biopharma is a veterinarian-lead company that was formed in 2002 to bring regenerative medicine to the profession. This privately held biopharmaceutical enterprise, based near San Diego (California), currently offers veterinarians an autologous stem cell processing service (from patients' own fat tissue) among other regenerative modalities. With a unique expertise acquired over the past 14 years and 12,000 patients treated by veterinarians for joint, tendon or ligament issues, VetStem has made regenerative medicine applications a therapeutic reality beyond the realm of research. The VetStem team is focused on developing new clinically practical and affordable veterinary solutions that leverage the natural restorative abilities present in all living creatures. The company's stated mission being "to extend and enhance the lives of animals by improving the quality of recovery in acute conditions, but also by unlocking ways to slow, stop and ultimately revert the course of chronic diseases." In addition to its own portfolio of patents, VetStem holds exclusive global veterinary licenses to a portfolio of over 55 issued patents in the field of regenerative medicine.