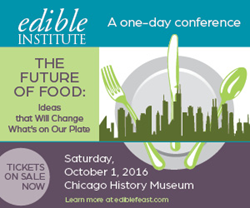 Chicago, IL (PRWEB) August 22, 2016
WHEN: Saturday, October 1, 2016. 8:30 a.m. to 4:00 p.m.
WHERE: Chicago History Museum, 1601 N. Clark Street, Chicago
COST: $45 if purchased on or before Friday, September 16. $55 after September 16. All ticket purchases include a light lunch at the event.
Buy tickets at http://www.ediblefeast.com/FutureOfFood
Who Should Attend?
Food entrepreneurs, food writers, culinary and hospitality students, chefs, restaurant managers/owners, farmers market managers, food retailers...and anyone who is passionate about food and how this industry impacts our world.
Featured Speakers
Sheila Bowman, Manager, Seafood Watch, Culinary and Strategic Initiatives, Monterey Bay Aquarium.
An Ocean of Plenty, or Not? Seafood provides sustenance for billions of people around the world. How can we sustain the supply itself in an industry that has become wrapped in issues of transparency, piracy, waste, and human rights concerns?
Leigh Uhlir, Professor, School of Hospitality Management, Kendall College.
In Pursuit of Protein. Environmental, animal rights, and sustainability issues are increasingly at the forefront, especially for today's millennial consumer. Consumers are looking for protein alternatives and companies are rushing to fill the void with plant-based (and insect-based) products. How important is protein to our survival and the health of our planet?
Chris Silva, St. Francis Winery.
Cycle and Commitment: the New Sustainability. Nurturing the soil, water conservation, recycling materials -- these are part of the new green economy, but companies are increasingly finding that a true commitment to 'sustainable' practices needs to go deeper, becoming part of corporate culture and the way that company interacts with the local community.
Mari Gallagher, Mari Gallagher Research & Consulting Group, Chicago.
Where to from Here? The local food movement has created a generation of newly aware and highly informed food consumers. As the market evolves into a more mainstream "good food" mentality, how will our food system be impacted as we scale up distribution, re-think retail, adapt to price fluctuations, ensure human rights and transparency, and continue to re-think food's role in the world?
Victor Freidberg, Co-Founder, Managing Partner, and Managing Director, S2G Ventures, Chicago.
Food Forward: Concepts to Watch. Exciting new ideas of what and who can feed us are spurred by entrepreneurial start-up zeal and necessity. Venture capitalists are pouring unprecedented amounts of financing into the food, beverage, and agriculture sectors. The result? Brands and products such as Cricket Bolognese or Soylent. What makes the most sense for plate and palate? And what will last? Session to include Pitch-Me-Now: 3 or 4 pre-selected attendees will have 3 minutes to present their business concept to Mr. Freidberg.
ABOUT EDIBLE COMMUNITIES
Launched in 2002, Edible Communities is an award-winning network of 90+ magazines and websites across the US and Canada that celebrate local, organic food culture, season by season. Edible focuses on the people – farmers, fishers, chefs, gardeners, vintners, and food artisan who impact and energize their respective culinary communities. Through Edible, millions have discovered the simple pleasure that comes from eating fresh foods cultivated locally by people who care about our local food systems. For great stories and recipes, visit http://www.ediblefeast.com, Facebook, or find an Edible near you.