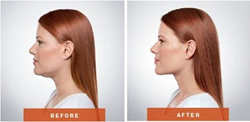 Kybella has already proven to be a highly effective treatment that successfully eliminates the all too common "double chin"
Los Angeles, CA (PRWEB) August 24, 2016
Trials are being launched to study the potential for Kybella, a new injection based procedure, to be used to eliminate fat that collects around the bra-line, knees and ankles according to an August 15 article published on Fierce Pharma. Beverly Hills Physicians (BHP) notes that, although these potential new uses for the injectable will very likely turn out to be extremely beneficial to patients struggling with those cosmetic issues, Kybella has already proven to be a highly effective treatment for eliminating the all too common "double chin" by removing stubborn fat in the upper part of the neck. BHP goes on to note that Kybella is a non-surgical injectable treatment that offers patients a variety of benefits, such as:
Minimal Side Effects and No Scarring: With a series of small injections in the desired treatment area, Kybella effectively removes the fat under a patient's chin without the need for any surgery. Therefore, scarring is never an issue and side effects, such as mild bruising or numbness, are very minor and short-lived.
Negligible recovery time: Before undergoing many types of treatment, patients typically must take recovery time into consideration. Kybella requires little to no downtime and, BHP notes, patients can often return to their regular routine immediately after the procedure. Additionally, each treatment usually lasts only between 15 to 20 minutes, so patients don't have to rearrange their entire schedules on the day of treatment. BHP goes on to note that its sheer convenience is a very big argument in favor of Kybella for a great many patients.
Permanent results: Once treatment is completed, Kybella effectively destroys the fat cells that accumulate under a patient's chin and when these cells are eliminated, the fat is permanently removed. Although achieving complete results may take longer than it would through liposuction, the double chin is as effectively removed as it would have through liposuction.
Beverly Hills Physicians concludes by noting that the highly effective Kybella procedure is available for all patients who are uncomfortable with the amount of fat that accumulates on the upper portions of their necks and who want to banish their double chin once and for all. The Los Angeles medical center goes on to note that their highly skilled and extremely experienced medical team is available to answer any questions and help patients achieve their aesthetic goals. Readers who are interested in Kybella or any other procedure are encouraged to call BHP at 800-788-1416 or visit their web site at http://www.BeverlyHillsPhysicians.com.