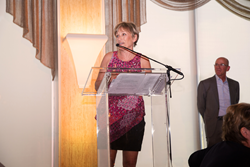 St. Louis, MO (PRWEB) August 21, 2016
Easterseals Midwest raised more than $460,000—its biggest amount yet—at the 31st Annual Par-Tee Dinner Auction and Tee-It-Up Golf Tournament on July 24 and 25 at the Meadowbrook Country Club in Ballwin, Missouri.
The annual fundraising event supports Easterseals Midwest in helping more than 4,000 adults and children with developmental disabilities—including autism—live, learn, work, and participate in their communities. Since its inception in 1986, the Par-Tee Dinner Auction and Tee-It-Up Golf Tournament has raised over $5.7 million.
"The success of this year's event shows just how deeply our community cares about supporting people with disabilities and helping them live healthy, productive lives," said Wendy Sullivan, chief executive officer of Easterseals Midwest. "We are grateful for the many generous people who came together to make this event possible—donors, volunteers, committee members, chairs, and staff—together we are working to make the world a better, more inclusive place for people with disabilities."
More than 300 guests attended the Par-Tee Dinner Auction, which featured a cocktail reception, three-course dinner, and both silent and live auctions. The Tee-It-Up Golf Tournament attracted 152 golfers who were divided into morning and afternoon flights.
This year's event was co-chaired by Mark Trudeau, President and CEO of Mallinckrodt Pharmaceuticals, and Elizabeth Rodriguez. Matthew Goldenberg, Bill Bartelsmeyer, and Jacque Bardgett were the Committee Co-Chairs, with Kim Hakim serving as Auction Chair. Les Wagner, Chair Emeritus and founding member of the Par-Tee Dinner Auction and Tee-It-Up Golf Tournament, was honored for his 31 years of leadership. Under his guidance, the event has grown larger and more successful each year.
Lockton Companies was the 2016 Platinum Sponsor, with 66 additional sponsors contributing gifts ranging from $1,000 to $10,000. Former National Hockey League goalie Darren Pang of Fox Sports Midwest served as the Par-Tee Dinner Auction co-emcee alongside Chris Hrabe, host of "Sports Open Line" on KMOX (1120 AM).
One of the event's biggest highlights was a golf clinic led by Meadowbrook golf professional Craig Liddle and designed specifically for individuals served through Easterseals Midwest's programs. Clients of varying ages, backgrounds, and abilities learned the fundamentals of golf. For many participants, this marked their first time on a golf course.
About Easterseals Midwest | Founded in 1964, Easterseals Midwest is a nonprofit organization committed to helping individuals with developmental disabilities—including autism—learn, live, work, and participate in the community. The agency employs more than 1,400 staff members, operates a budget of more than $50 million and provides services for 4,000 individuals statewide through four divisions: Autism Services, Community Living Services, Early Childhood Services, and Employment Services. For more information, please visit EasterSealsMidwest.org.
Media Contact:
Micki Keim
Vice President, Marketing & Communications
Ph: 314-394-7019 Cell: 314-791-9948
micki.keim(at)esmw.org