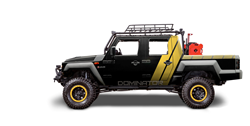 With achieved milestones, we are now a reality!
Myrtle Beach, SC (PRWEB) August 19, 2016
Alkane Truck Company has completed their EquityNet profile and uploaded their company business plan projections for the next 5 years. The company has already raised $5.4 MM in funding led by Robert Smith, founder and CEO of Alkane Truck Company. Alkane has achieved crucial milestones, which have defined the company's business model and structure. Alkane Truck Company has completed DOT compliance for their class 7 cab-over truck, and have signed exclusive Agent of Service agreements (AOS) with international truck manufacturers Foton (China's #1 commercial truck manufacturer) & Agrale (current military vehicles supplier for Brazilian Government and The United Nations).
You can visit Alkane Truck Company's EquityNet profile at : http://www.equitynet.com/c/alkane-truck-company-inc
Based in Myrtle Beach, S.C., Alkane Truck Company is influencing the future of trucking and off-road vehicles with its three products: the Dominator™, Humvee-style off-road, all-terrain vehicle, a class 7 truck and a class 8, 18-wheeler tractor. The company is a leader in the development of alternative fueled vehicles. More information can be found at http://www.alkanetruckcompany.com/home/