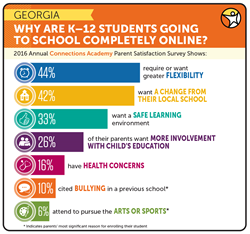 Sometimes students need a break from the traditional brick-and-mortar setting and find that a virtual public charter school can help them catch up or take a break from the day-to-day peer pressures of school
Duluth, GA (PRWEB) August 22, 2016
As flexible and digital learning options continue to gain momentum nationwide, many parents are looking beyond traditional brick-and-mortar schools for their child's education. Though Georgia Connections Academy (GACA) students may not start school each morning at the sound of a bell, public school parents are increasingly choosing the statewide online charter school for their students. Georgia Connections Academy, a tuition-free, public virtual charter school serving K-12 students in every county, recently welcomed nearly 4,000 students for the 2016-2017 school year.
The new school year kicks off just as the results of the school's Parent Satisfaction Survey reveal that 91 percent of parents would recommend Georgia Connections Academy to other families not enrolled in the program.
"Georgia Connections Academy gives my children more classroom and curriculum choices, while giving me the opportunity to be more involved in their schooling," said parent Angela Ray.
Parents also gave the online school's curriculum and teachers high marks, with 94% of parents agreeing that the curriculum is high quality, and 95% of parents satisfied with the helpfulness of their child's teachers. And in a separate independent Student Satisfaction Survey, 91% of students in grades K-12 agree they are satisfied with the online program.
Parents also indicate they are choosing to enroll their students in a virtual public charter school, like Georgia Connections Academy, for a variety of reasons. Top reasons include:
--Families require or want greater flexibility
--Families want a change from their local school
--Families want a safe learning environment
"Sometimes students need a break from the traditional brick-and-mortar setting and find that a virtual public charter school can help them catch up or take a break from the day-to-day peer pressures of school," said Georgia Connections Academy Executive Director Heather J. Robinson. "We provide a change of mindset."
Online learning growth
More than a quarter of a million American students in grades K-12 get their education completely online, and in Georgia that number has grown to nearly 20,000 students served by three virtual public schools. A recent national public opinion poll supported by Connections Education also found that 76 percent of Americans support online learning options, and 67 percent of respondents agreed that online schools have the potential to better personalize education to each student based on his or her needs.
"I think this underscores that there is high demand among parents for virtual charter schooling and we're happy we can meet that demand throughout Georgia," Robinson said.
Accountability and funding
Georgia Connections Academy, a top performing virtual charter school, is also seeking to improve the academic accountability of all virtual public schools in the state.
"Teaching and learning in the K–12 sector has changed dramatically over the past 20 years due to online instruction. Naturally, not all traditional academic measures account for these improvements," Robinson explained.
Georgia Connections Academy is working with the Georgia Department of Education to ensure equitable funding for online charters, a standard method of gauging enrollment numbers for the entire school year, and ways to account for differences in measuring a virtual school's academic performance.
"Virtual schools still face challenges, and we want to be a leader in setting a higher bar for online education in our state," said Director Robinson. "We must address these issues because parents want the digital schooling option for their children."
Georgia Connections Academy is still enrolling for the 2016-17 school year, but space is limited. For more information and to enroll, visit http://www.GeorgiaConnectionsAcademy.com.
ABOUT GEORGIA CONNECTIONS ACADEMY
Georgia Connections Academy, established in 2010, is a provider of high-quality, free public virtual charter schooling for grades K through 12. Georgia Connections Academy is dedicated to highly accountable student academic performance and offers superior, personalized education by certified teachers. Executive Director Heather J. Robinson helps students and their families transition from traditional brick-and-mortar schooling to the joys, freedom and flexibility of an online education that meets the state's standards the definition of a community school. As an online charter school, students access their lessons anytime, anywhere as long as they have the technology, tools and support of their family. Accountability for meeting high academic student performance is monitored by the school's non-profit charter board. The charter school is authorized by the State Board of Education to accept students from any county in the State. The school is headquartered in Duluth at 2763 Meadow Church Rd., Ste 208.