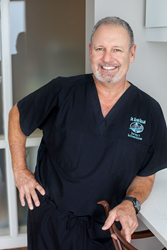 Mt. Pleasant, SC (PRWEB) August 19, 2016
New patients with moderate to severe levels of dental anxiety can now receive sedation dentistry in Mt. Pleasant, SC from Dr. Kevin Hogan. Sedation dentistry has the ability to calm even the most severe anxiety or fear towards dental procedures, allowing patients to finally receive the treatment they need to maintain a proper oral health. Dr. Hogan offers patients oral conscious sedation, which is a safe way to reduce anxiety and enhance the patient's experience during treatment.
Dental anxiety is a common condition that can affect any person at almost any age. It is commonly caused by a traumatic childhood experience involving dental care, but it can also occur later on in life. Fear often keeps patients from visiting their dentists and receiving the proper care they need in order to maintain a healthy smile. As a result, many patients who avoid receiving preventative care end up with painful dental problems that can be expensive to treat and detrimental to their health. Dr. Hogan seeks to help patients feel more comfortable in the dental chair by offering sedation dentistry at his state-of-the-art practice in Mt. Pleasant, SC.
One preferred sedation option that Dr. Hogan and his team administer, is conscious oral sedation. This type of sedation does not put the patient to sleep, but it does help them achieve a very relaxed state in order to overcome their fear. In some cases, patients may be so comfortable and calm that they fall asleep during their appointment and have to be awoken once treatment is complete. Most patients who receive oral sedation have no memory of the procedure after it is finished, however they are able to respond during treatment. Oral sedation is administered orally up to an hour before treatment is scheduled to begin and provides several hours of relaxation. As a safety measure, patients will need to be driven to and from their appointment.
Dr. Hogan encourages patients with dental anxiety to find out how easy and painless a variety of treatments can be with the help of sedation dentistry in Mt. Pleasant, SC. New patients are invited to schedule an appointment by calling (843) 216-0908.
About the Doctor
Dr. Kevin Hogan is a general dentist providing individualized care for patients in Mt. Pleasant, SC. Dr. Hogan is a graduate of the Indiana University School of Dentistry and has completed hundreds of hours of continuing education courses to stay contemporary with the latest dental technologies. In addition, he has also completed coursework with the Dental Organization for Conscious Sedation and has lectured at the University of North Carolina, Emory University, the Saginaw Valley University and AUA-American University of Antigua on head and neck anatomy and oral pathology. Dr. Hogan is a member of the American Dental Association, International College of Cranio-Mandibular Orthopedics, Academy of Laser Dentistry, International Association of Physiologic Aesthetics, Institute for Advanced Laser Dentistry, DOCS (the Dental Organization for Conscious Sedation), International Congress of Oral Implantologists and the South Carolina Dental Association. He is also a past member of the American Straight Wire Orthodontic Association, Maxillofacial Orthopedic Growth and Development, the American Academy of Pediatric Dentistry and the Functional Orthodontic Society. He and his team are dedicated to providing exceptional oral care to patients through personalized treatment plans. To learn more about the services offered by Dr. Hogan, please visit his website at http://www.smilesbyhogan.com or call (843) 216-0908.