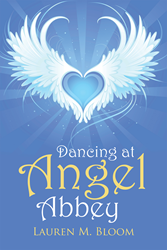 The Creator and the angels are eager to help us... All we have to do is ask.
ANNAPOLIS, Md. (PRWEB) August 22, 2016
We live in scary times, but they don't have to scare us.
In her new novel, "Dancing at Angel Abbey," Lauren M. Bloom, an award-winning author, attorney and interfaith minister, tells the enchanting story of young attorney Kate Cunningham and her friendship with archangels.
As she is launched on a wild journey of personal discovery propelled by portents and fortuitous events orchestrated by the great Archangel Gabriel, Kate leaves behind the deceptive world she knew and learns that angels are real and miracles happen.
Bloom credits her inspiration for "Dancing at Angel Abbey" to her lifelong fascination with angels.
"During my time in seminary, I began to wonder how a long-term relationship with an angel might shape a person's life," Bloom said. "I wanted to explore what life might be like if, instead of arguing with and running away from the Divine, a person chose to enter into a working partnership with an angel."
Through her novel, Bloom hopes to remind readers of the Creator's desire to love and support them as they walk through the darkness and into brighter futures.
"Life is meant to be a beautiful adventure – even the dark, scary parts," Bloom said. "The Creator and the angels are eager to help us... All we have to do is ask."
For more information, visit http://www.dancingatangelabbey.com.
Dancing at Angel Abbey
By Lauren M. Bloom
ISBN: 978-1-5043-5331-1
Available in hardcover, softcover and e-book
Available on Amazon, Barnes & Noble and Balboa Press
About the author
Lauren M. Bloom is an attorney, interfaith minister and award-winning author. She previously published "Art of the Apology: How When and Why to Give and Accept Apologies" in 2014, which won the International Book Award and a silver medal in the Nautilus Awards. Bloom currently lives in Maryland with her family and several pampered Siamese cats.
###
**FOR IMMEDIATE RELEASE**
For review copies or interview requests, contact:
Jennifer Uebelhack
317.602.7137
juebelhack(at)bohlsengroup(dot)com