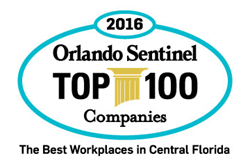 Mutual respect helps create mutual success.
Sanford, FL (PRWEB) August 24, 2016
Hernon Manufacturing Inc.®, maker of high performance sealants and adhesives and the associated dispensing and curing equipment, announced today that they were awarded a coveted spot on the Orlando Sentinel's list of the Top 100 best workplaces in Central Florida. The Orlando Sentinel's Top 100 program recognizes companies throughout Central Florida that are "committed to making their company a great place to work." Nominated companies are measured on workplace flexibility, company leadership, career opportunities, community service, compensation and benefits. "Hernon Manufacturing is so pleased that our commitment to a great workplace has been recognized," said Harry Arnon, CEO of Hernon Manufacturing, "We know that when we put employees first that the employees will prioritize the company in return and that is how the relationship is supposed to work. Mutual respect helps create mutual success."
Hernon Manufacturing Inc.® and the company's employees have certainly seen mutual success. The company averaged double digit growth for the past four years and expanded their manufacturing facility 160% this past year. Employees were not left behind as Harry Arnon announced company-wide raises at the start of 2016. "This recognition and award comes at a great time for Hernon Manufacturing," said Edgardo Rodriguez, Director of Sales. "We not only expanded our facility but we are expanding our workforce as well and the award will help attract top talent."
Hernon Manufacturing is a rare example of United States based manufacturing that exports its products to over 50 countries worldwide.
For more information on the Orlando Sentinel Top 100 List, click here: http://www.orlandosentinel.com/about/top-100/sfl-top100-about-top-100-htmlstory.html