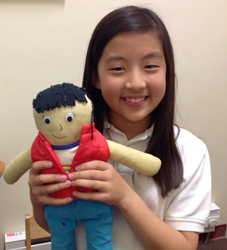 It's our goal to nurture students' growing empathy and understanding of their world to inspire a lifetime of community action and citizenship.
SARATOGA, Calif. (PRWEB) August 26, 2016
At Stratford School, community service is a cornerstone of citizenship. The award-winning private school has built a culture based on respect, excellence, continuous improvement and high expectations. That includes a learning environment recognized by many for its academic performance that also has a rich tradition of giving back to the communities where students live and learn. Stratford Cares is a program that has seen exceptional growth as students make giving back part of their daily lives.
"Compassion and service are at the center of our Stratford Cares program. We want our students to find themselves in service of the world around them by recognizing the needs of others," said Sherry Adams, Founder of Stratford School. "There's something for everyone. Students want to give in different ways. Our student councils determine on-campus drives as well as leadership opportunities where our students give their time and talents on and off campus. Through student-led activities, they address a range of local and global needs including health, human services, and the environment."
Highlights of the Stratford's 2016 program include a 40 percent increase in food donations over the previous year's drive to Bay Area food banks, including Second Harvest, San Francisco, Contra Costa County, and Alameda County services; an increase of 36 percent in fundraising efforts for area charities; and continued increases with in-kind donations of coats, clothing, toys, and other goods and volunteer time.
Stratford raised nearly $180,000 over the school year with major contributions going to Leukemia and Lymphoma Society (more than $60K), American Heart Association (more than $62K), American Cancer Society ($15K) and St. Jude Children's Hospital ($15K). The Leukemia and Lymphoma Society recently recognized the generosity of students and families at Stratford's Fremont Curtis campus when it ranked #1 locally and 7th in the nation among schools participating in the LLS annual giving program.
One highlight for students has been Stratford's relationship with TreeRing; the school's yearbook vendor, which plants a tree for every yearbook sold. In 2016, Stratford helped plant more than 1,100 trees through TreeRing's environmental program.
"We are so proud of our students and their community service activities. As a part of their character development, it's our goal to nurture students' growing empathy and understanding of their world to inspire a lifetime of community action and citizenship," said, Sherry Adams.
Academic and Education Excellence Awards
Stratford students are encouraged to grow and challenge their knowledge through academic competition. Students regularly participate in programs including regional science bowls, engineering fairs, writing contests, and leadership enrichment programs and competitions.
Over the past year, Stratford School has been recognized for its superior academic environment, and its students have been recognized individually and as collaborative teams for their knowledge and skill in vital academic subjects.
Highlights include:
Stratford School Recognition:

American Scholastic Math Association – Top School Award
Carnegie STEM Seal of Excellence
Math Counts – Best Small School
Special Engineering Award from the Department of Naval Research
Student Recognition:

California Math League – 2nd and 3rd place
California State Science Fair – 1st, 3rd and honorable mention
Engineering Fair – Grand Prize
Future City Competition – Best Model and Project Management
Geography state and national finalist
Math Olympiad – 11 gold, 9 silver, 1 perfect score
National Spanish Exam – Perfect Gold
Santa Clara Valley Math Association – Top Ten (each grade level)
Science Bowl Regional Placement
South Bay Debate League – Overall Winner
UCLA Original Research Award
About Stratford School
Established in 1999, Stratford School is a leading independent private school founded on the belief that education is a significant influence in the life of a child. Stratford offers an accelerated curriculum from preschool through eighth grade with an emphasis in the areas of STEAM (Science, Technology, Engineering, Arts, and Mathematics) that incorporates music, physical education, foreign language, and social skills development. Stratford's goal is to prepare and mentor students for admission to competitive high schools and colleges. All students are provided the necessary tools to excel, and are encouraged to participate actively in leadership, community service, and extracurricular activities. Visit http://www.stratfordschools.com for more information.