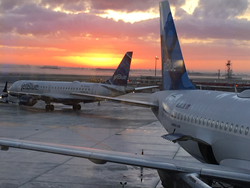 Airlines want to be sure that their crew members will be well cared for, and the Hotel wants to ensure that the crew members will treat the Hotel as their home away from home.
Long Island, New York (PRWEB) August 21, 2016
The Holiday Inn Westbury - Long Island is actively seeking to provide an airline with crew accommodations on a long term basis that fly in and out of JFK Airport, and their goal is to have a working relationship with one or several by late 2016 or early 2017.
The Holiday Inn Westbury - Long Island has been host to several airlines over the last decade, and at one time has accommodated as many as three different airlines during the same time period. Some may wonder why a Long Island hotel located in the middle of Nassau County would seek to host an airline, or perhaps why an airline typically flying in and out of John F. Kennedy International Airport (JFK) would seek a hotel in Nassau County, Long Island; however, it's more common than one may think.
For the most part, it has a lot to do with location, as cockpit and cabin crew members of airlines have down time between flights, especially those flying International flights, and for the most part, the last thing they want is to stay right by an airport. Noise levels are typically one of the main concerns and factors, as the crew members need to get their rest, but other factors include being able to venture out and see and explore various points of interest, which is also just very relaxing and enjoyable to many crews.
In the case of the Holiday Inn Westbury, it happens to be located next to three large shopping malls, and is within walking distance to some of the more popular and large chain stores such as Walmart and Target. It's also in walking distance to the Long Island Rail Road (LIRR), which makes it extremely convenient for crew members to venture into Manhattan.
The reason a hotel often seeks to host an airline crew is because it provides a hotel with long-term and secured revenue stream, and once a hotel becomes accustomed to the airline's schedule and arrival and departure patterns, it can set up its operations on a relatively predictable schedule. Other factors airlines often consider is whether or not a hotel is a full service property, or one of limited service. Typically airlines seek properties that can offer their crew members full amenities and services, which includes such services as a restaurant, business center, fitness room, swimming pool, outdoor areas such as courtyards, complimentary WiFi, laundry services, etc.
The Holiday Inn Westbury's General Manager, Franklin Manchester stated, "There are many factors that both the hotel and the airline have to consider. About 50% of it revolves around income and expenses for all entities, but the other 50% has a lot to do with the accommodations, services and amenities a hotel property can offer, and what an airline's expectations are, which often includes an airline's executive officers, and specific members of their crew. I believe that any airline that is seeking accommodations away from an airport property should consider the Holiday Inn Westbury, as I know we have the amenities and services crews are seeking, and I honestly believe we are in the best location that one can be in, based upon my knowledge of the things they enjoy doing."
Manchester added that both the Hotel and the various airlines go through what he referred to as a "Getting To Know You Process." Airlines don't just pick any hotel, and the Holiday Inn Westbury does not just accept any airline crew. He said, "There has to be a chemistry between the two," and he believes that has to do with what an airline's expectations are, and what the Hotel can deliver. He said, "Airlines want to be sure that their crew members will be well cared for, and the Hotel wants to ensure that the crew members will treat the Hotel as their home away from home." He noted that the experience the Hotel's team has in hosting crew accommodations for various airlines is something that all airlines should consider and recognize, because those that have not done so before may be faced with challenges that are difficult to overcome.
The Holiday Inn Westbury has 152 rooms and suites, and is seeking to host a crew or crews of 30 - 35 rooms, which would leave approximately 120 rooms for the Hotel to offer other market segments such as their corporate, leisure and social travelers that they host on an individual and group basis. Their centralized location within Nassau County, and relatively short distance from New York's JFK Airport make them an ideal property for all guests visiting the area.