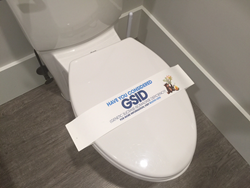 "Increasing disease state awareness is imperative to both the medical community and general public."
Vero Beach, Florida (PRWEB) August 23, 2016
QOL's target audience is the physicians and medical professionals who treat Gastrointestinal (GI) diseases, conditions, and their symptoms. So what message placement would be more appropriate than on a toilet seat? "Getting the attention of doctors who have increasing demands on their schedules, make it challenging to further educate them on rare diseases, which already garner less attention and media exposure," said QOL's Vice President of Marketing, Anthony D'Elia. "Our team designed disease-state branded biodegradable toilet seat wraps to place in all of the conference attendees hotel rooms, something no one will miss."
(See attached images of toilet seat wraps)
This new hyper-targeted approach will assist in raising rare disease awareness direct to the specialty physicians. "Increasing disease state awareness is imperative to both the medical community and general public."
About Rare Diseases
One in ten Americans has a rare disease, approximately 30 million people, with more than half being children. According to the National Institutes of Health (NIH), a disease is considered rare if it has a prevalence of fewer than 200,000 affected individuals in the United States. There are roughly 7,000 rare diseases currently identified. Learn more from the National Organization for Rare Disorders (NORD)http://www.rarediseases.org
About GSID
Genetic Sucrase-Isomaltase Deficiency/Congenital Sucrase-Isomaltase Deficiency is a
rare disorder that affects a person's ability to digest certain sugars due to absent or low
levels of two digestive enzymes, sucrase and isomaltase. Sucrase and isomaltase are
involved in the digestion of sugar and starch. Sucrase is an enzyme produced in the small
intestine that aids in the breakdown of sucrose (table sugar) into glucose and fructose,
which are used by the body as fuel. Isomaltase is one of several enzymes that helps
digest starches. Failure to absorb dietary sucrose and starch may impact the absorption of
other nutrients and the hormonal regulation of gastrointestinal function. Patients with
Genetic Sucrase-Isomaltase Deficiency are at risk for chronic malnutrition; indeed,
failure to thrive is one of the characteristics of the disease state. In addition to diarrhea,
some patients suffer from gassiness, abdominal distention, and pain.