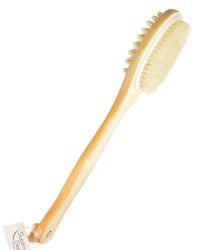 Skin Brushing is fantastic for improving skin tone, wellness (thanks to moving the lymphatic and circulatory systems) and more. Discover the Sublime Beauty Skin Brush.
St. Petersburg, FL (PRWEB) August 20, 2016
Skin Brushing is a powerful tip for both wellness and beauty, and it is favored by many celebrities, models and spas.
Body Brushing, or Skin Brushing, helps to boost circulation, exfoliate dead cells, improve skin tone and very importantly, help move the lymphatic system. Supporting the lymphatic system for detox is an important step in staying well. The lymphatic system has no pump (like the heart) and relies on massage, body brushing and movement to function.
The Sublime Skin Brush has been a very popular tool with many for years, and it is rarely on sale. However, it is featured in an Amazon Lightning Deal on Saturday August 20th, from 12:40 EST (9:40 Pacific) to 4:40 EST (1:40 Pacific). Typically $15.99, it will be available for $9.99.
"We feel very strongly about the benefits of Skin Brushing," says Kathy Heshelow, founder of Sublime Beauty. "We devoted an entire educational site on the subject, found here. I look forward to Skin Brushing every single morning - it is so invigorating!."
The brush is made of quality wood with boar bristles (not too hard and not too soft). There is a dual head - the other side features nubs for cellulite massage.
Get the Sublime Skin Brush anytime on Amazon, but today between 12:40 EST and 4:40 EST for $9.99 during the Lightning Deal.
ABOUT: Sublime Beauty® is a French-inspired quality skincare company that focuses on products to Age Well. Ingredients help to boost collagen, hydrate, relax wrinkles and improve skin. A niche includes healthy Skin Brushes. The company webstore offers free standard shipping and a VIP Club. Sign up for Secret Sales on the site. Products also available on Amazon.