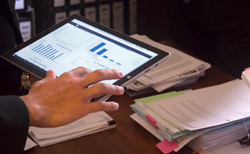 Changing work processes is never easy, Drive Revenue makes the transition simple with practical processes that are familiar and easy to adopt
New York (PRWEB) August 30, 2016
The four city launch is expected to gather law firms frustrated with legacy systems for an hour and a half thought leadership seminar. At the seminar, the Drive Revenue team will share design thinking (read: innovative) ways for legal professionals to radically improve bottom line performance.
Much has been written about how the legal profession has and will continue to be impacted by various factors, technology only being one, the Drive Revenue seminar aims to share global intelligence on strategies to capitalize on these factors rather than being made redundant in the process.
The seminar will include a demonstration of Drive Revenue's flagship product Drive Practice. Rob Reinking, Director of Sales and Marketing at Drive Revenue commented at the announcement of the launch that, "our competitors that offer cloud solutions only handle the front office and back out into an accounting system which means maintaining two systems, is inefficient, complicated and frustrating for busy lawyers who can never have an up to date picture of their practice."
Drive Revenue's executive team made up of specialists in the fields of law, practice management, software engineering and business process optimization will present career building thought leadership to transform legal practice management.
"Changing work processes is never easy, Drive Revenue makes the transition simple with practical processes that are familiar and easy to adopt," says Jenny Assheton-Smith, CEO at Drive Revenue.
Rob closed by saying that this would be the most valuable hour and a half of any lawyer's career, and encouraged law firms to join the Drive Revenue team at one of the four launch venues.