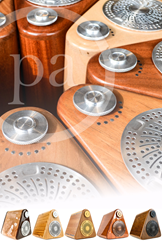 From an engineering standpoint, there is absolutely nothing about the shape of a square box that is conducive to the faithful reproduction of music—nothing!
(PRWEB) August 22, 2016
Some people like to talk about "out of the box thinking", but at Princeton Audio they're actually doing it. In fact, the first thing Princeton Audio founder Michael Pelland did when designing his award-winning Site:1 speaker was to jettison the box itself altogether. Pelland, an engineer by trade and lover of good music by nature, had been increasingly exasperated by the poor sound and cheap build quality of portable audio speakers. Finally, he decided to work out how to create a beautiful speaker that is built to last, and would produce clear, deep—and most importantly true—reproduction of the music he loves. Methodically, doggedly, Pelland eventually arrived at a form factor for his speaker that gave him the deep, resonant sound that he had been looking for.
And it was shaped like a triangle.
Pelland is outspoken in his defense of the unconventional appearance of his Site:1 speaker. "From an engineering standpoint, there is absolutely nothing about the shape of a square box that is conducive to the faithful reproduction of music—nothing!" he said.
Pelland argues that most manufacturers favor the traditional boxy shape of audio speakers partly out of a failure of imagination, and partly for their ease of assembly. Similarly, he says that most companies use cheap plastics in speaker construction for reasons that have nothing to do with quality sound, and everything to do with cranking out product as quickly and cheaply as possible.
"When it comes to portable audio speakers, consumers have basically been sold a bill of goods," Pelland said, "Decades ago, it simply wasn't possible to create an affordable portable speaker with great sound. People were persuaded that they had to settle for inferior sound quality in order to have portability. But over the years, though technology continued to advance, making better-sounding speakers possible, many audio companies found it convenient to keep consumer's expectations low to help pad their bottom lines. Good music deserves better," Pelland added.
Princeton Audio's rallying cry to upset the audio industry establishment is to "Reclaim our music", and that theme of reclamation is a thread that runs through everything the company does. Dedicated to helping revive the hometown that inspired their company name, and committed to the use of local, sustainable materials for their speaker construction, Princeton's passion for reclamation is more than just skin deep.
The unique triangle shape of his company's Site:1 speaker is not the only thing unorthodox about it; Pelland also insisted on the use of instrument-quality tonewoods for the construction of his high-end speakers. Variously crafted out of solid mahogany, black walnut, maple, and black cherry, the Site:1 speakers are as visually stunning as they are sonically beautiful.
"Site:1 speakers are designed to take advantage of the special acoustical properties of these gorgeous tonewoods," Pelland explained, "Inside, the Site:1 boasts upgradeable electronics to deliver that audiophile-quality sound. Customers have the option of either 15 or 40 hours of long-lasting battery life; the Site:1 is a fully-portable, Bluetooth-enabled speaker that allows you to hear music the way the artist intended it."
As Pelland notes, the final proof of the Site:1 speakers is in their remarkable sound quality.
"People need to hear these speakers to believe them," he stresses, "The clarity, the gorgeous tone, the imaging, the warmth -- they speak for themselves. And to anyone who is tired of the forced boominess and tinny highs of speakers made from cheap plastic, portable boxes, I have two words for you: 'Try Angle!'" he added.
The Site:1 is available for order for $349.99 from the company's website at http://www.princeton-audio.com.
About Princeton Audio: Founded in 2014 by Michael Pelland, Princeton Audio is dedicated to the creation of high-quality, handcrafted audio products, and reclaiming and rejuvenating the proud history of local manufacturing in Princeton, Wisconsin. At Princeton Audio, we promise that our products will be worthy of the music you love, that they will be beautiful, and that they will last.