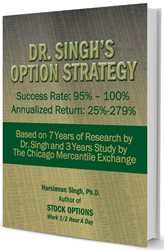 The Fastest Way To Be Financially Successful Still Remains To Be Options Trading.
NYC, New York (PRWEB) August 23, 2016
Dr. Singh is holding a webinar to discuss the following:

How to receive the list of stocks that… are…95%+ certain to move up
Why most people lose money while trading options
When and how to enter and exit the market
How to profit whether market goes up, goes down or does nothing
Dr. Singh authored 12 books including, "How 12 Investors Made Billions In Stocks", "Stock Options - Work 1/2 Hour A Day" and "We Create Millionaires".
Dr. Singh is in the process of writing his 13th book, "100 New Millionaires - 100 Success Stories of Stock Option Traders".
He is seeking candidates who would like to learn options trading strategies to be successful. He has a tremendous record of success . Last year, he recommended 57 trades and 56 were successful.
Click here to obtain a private passcode to the webinar being held on Thursday, August 25 at 8:00 PM EST. Capacity is limited to 100 attendees.