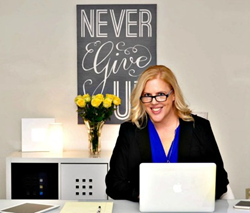 (PRWEB) August 25, 2016
Motivated by her own success, medical billing business entrepreneur Jennifer Gomm is now offering a variety of coaching programs to inspire others to follow in her footsteps. These training programs have been created as a tool for individuals looking to escape an unfulfilling day job, or simply experience a greater sense of independence. As a first of its kind business, Jennifer Gomm offers personalized coaching in a previously intimidating market. In addition, the wide range of options allows the client to select the learning tool that best fits their lifestyle.
Gomm provides 4 different coaching tools to aid clients in learning at their own pace. For those looking for an in depth, step-by-step course, Gomm offers "One-on-One Medical Billing Business Coaching". This program provides the most personal, thorough session for individuals passionately interested in a career in the medical billing field. The "Medical Billing Startup Webinar" is directed toward already independent clients. The pre-recorded session allows people go back and re-watch important sections, and move past information they already understand. Gomm also offers an e-book available through Amazon, titled "How to Start my Medical Billing Business Guide". This is a valuable reference tool both stand alone and as a supplement to any of Gomm's other programs. The final program offering is the "Power Hour with Jennifer Gomm". Currently the most popular session, this offering provides the client with an hour of undivided attention to map out a plan of action and resolve any questions or concerns about the industry. Ultimately, each of the programs focuses on five main points:

Get over fears and start the career of your dreams
Learn how to create a freedom-based business
Say goodbye to working for someone you don't like or respect
Make your own rules
Be financially independent and decide what you are going to earn this year
For more information about starting a work from home medical billing business, please visit http://www.jennifergomm.com.
About Jennifer Gomm
Jennifer Gomm is a Certified Reimbursement Specialist and Business Coach. She is the owner and operator of Gomm Chiropractic Billing, Gomm Medical Billing, and Gomm PT Billing. She is also the co-owner of Help My Biller, a support company for medical billers, to make sure that her clients achieve success. Lastly, Jennifer started her coaching business, Jennifer Gomm Business Coaching. She is honored that she has had the opportunity to contribute to the success of so many startups. Jennifer believes passionately in empowering women to have the career and life they want. She has created a proven formula for building a business that works. Jennifer enjoys reading, cooking, and traveling with her husband Jeff and her daughters Alexandra, and Katherine.