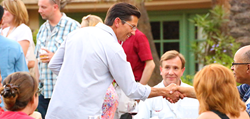 Have the courage to listen to the 'loud minority' in your sector, and your courage in doing so will propel your success.
SCOTTSDALE, Arizona (PRWEB) August 23, 2016
Dean Graziosi, New York Times best-selling author and real estate expert, says learning from the loud minority makes businesses stronger.
Graziosi, who's featured on Forbes this month in a featured column discussing this topic, says entrepreneurs need to understand there will always be people who are unhappy with your business for a variety of reasons and want to broadcast their experiences—the loud minority. It's how entrepreneurs react to the loud minority that can make all the difference.
Listening to the loud minority, and learning from them, will help an entrepreneur thrive. They may have feedback that will help a business change policies and procedures for the better; they may have input that could improve the product or service.
"Obsess on how your client feels through their entire experience with your company. That is where your next level may be hiding," Graziosi states in the Forbes column. "Have the courage to listen to the 'loud minority' in your sector, and your courage in doing so will propel your success."
To read more about Graziosi's philosophy, visit http://bit.ly/2b1WfUd. For more information about Graziosi, visit http://www.deangraziosi.com.
About Dean Graziosi
Dean Graziosi has been one of the most watched success trainers of our generation. He has touched the lives of millions of people around the world with his powerful inspiration and training. Graziosi has been a New York Times bestselling author since 2006 when he released his first book "Totally Fulfilled." Since then, Graziosi has gone on to become a top leading author and educator for those seeking success in real estate investing, and has completely dominated the market. His other books include: "Be A Real Estate Millionaire," "Your Town Your Profits," "Profit From Real Estate Right Now," and "30 Days To Real Estate Profits."
Since 2008, Graziosi has produced a wildly successful Weekly Wisdom video blog where each week he shares powerful insights and strategies for high performance in all areas of life. Graziosi has also been on TV every day for 15 years sharing his books and success training with the world through direct response TV shows.
Graziosi has traveled the world and spoken on stages to as many as 20,000 people.He has cemented his place as one of the top conscious thought leaders in the world. To date, Graziosi has made a massive impact on millions of people's lives, and he has only just begun.