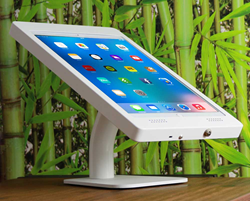 The new Optima iPad Pro Stand is the long-awaited stand that fits Apple's latest larger sized iPad
Wilmington, Delaware (PRWEB) August 25, 2016
This new product is a free standing enclosure that houses the new larger iPad for maximum ease of commercial and retail transactions.
The case comes in both black and white and is manufactured of metal to provide the highest security possible. The faceplate is locked with a unique barrel key for even more enhanced security while still making inserting and removing of the iPad very easy. A backup screw is also supplied to extend the security even further.
This versatile case is compatible in all environments such as cafés, retail stores, waiting rooms, restaurants, workplaces or anywhere tablet use needs to be accessible. The Optima iPad Pro can be used in both portrait or landscape mode with the 90°​ rotation function available on the stand. With its heavy metal base, any movement that occurs when changing rotation is easily eliminated.
Another feature of the Optima iPad Pro is that it makes it easy to keep the iPad constantly charged. The charging cord can be simply fed through the bottom of the stand and plugged in at the bottom of the table, or running it out over the desktop.
The Optima iPad Pro Stand is made exclusively for the iPad Pro 12.9" and comes with a one-year warranty from the day of purchase.
iPad stands are a great way for businesses to use an iPad in order to complete transactions. They can provide easy ways to turn iPads into cash registers, menu cards, game stations, time trackers and more. These stands also provide security for the tablet making it virtually impossible for any would be thieves to take off with it. Stands also make it easy to protect tablets from accidentally falling off or getting unsecured from their location.
The new Optima iPad Pro Stand is the long-awaited stand that fits Apple's latest larger sized iPad. This allows businesses to upgrade to the bigger tablets and still maintain the security they have come to expect from the smaller Optima stands that fit the smaller tablets.
BossTab is a retail and consumer merchandise company located in Delaware, PA. They specialize in technical products geared at retailers focusing on tablet enclosures of all types. Their enclosures include stands, wall mounted, kiosk style and more.