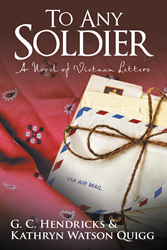 This tale takes on difficult issues without blinking, and the readers will close the book feeling enlightened and moved
RALEIGH, N.C (PRWEB) August 24, 2016
In 1968, when Ashley Beth Justice, a freshman at a small liberal arts college, penned a letter "To Any Soldier," she thought she was just doing her civic duty. What Justice did not know was that her correspondence with a Vietnam combat pilot would change both their lives.
In their new book, To Any Soldier, authors G.C. Hendricks and Kathryn Watson Quigg have written a novel about a collection of letters between a Marine fighter pilot in Vietnam and a college freshman in North Carolina. To Any Soldier tracks the profound and intimate relationship that forms between protagonists Ashley Beth Justice and USMC Lt. Jay Fox.
Ashley Beth has recently moved away from her small hometown. She is naïve and totally separated from the Vietnam War, and is just beginning to see the world from a new perspective. Jay, in the midst of bombing runs each evening, has purposefully distanced himself from any close relationships, but there's something about Ashley Beth's innocent and forthright manner that compels him to answer her letters.
The reality of the war hits home for Ashley Beth when Jay describes his plane almost colliding with another after a dangerous bombing run. The stakes are higher now—the disagreements, more intense; the flirtations, more significant. Even amid the bloodshed in Vietnam and the civil unrest at home, Jay and Ashley Beth dare to dream of a life together while struggling to understand the war and themselves.
Like the characters in the book, both Hendricks and Quigg come from North Carolina. Hendricks was a pilot in 1970 and flew 220 bombing missions in Vietnam and Cambodia. Quigg was a coed at two liberal arts colleges during the Vietnam Conflict.
"Together, the authors craft a marvelously sensitive portrayal of an affectionate relationship... a beautiful, achingly affectionate love story in correspondence." Kirkus Review
"This tale takes on difficult issues without blinking, and the readers will close the book feeling enlightened and moved." Blueink Review
"Perceptive, well-written, and evocative, the letters offer an indelible portrait of coming-of-age in complicated times. Jay and Ashley Beth's self-reflections encapsulate the emblematic cultural shifts of the 1960s...To Any Soldier is well worth the journey." Foreword Reviews
For more information, visit http://www.toanysoldier.com.
To Any Soldier: A Novel of Vietnam Letters
By: G.C. Hendricks and Kathryn Watson Quigg
ISBN: 978-1-4917-6873-0
Available in softcover and e-book from Amazon, Barnes & Noble and iUniverse
About the authors
G.C. Hendricks is the critically acclaimed author of "The Second War," and is a decorated pilot who flew more than two hundred missions in Vietnam. He lives and works in Montana. Kathryn Watson Quigg is an artist and writer. She lives in North Carolina and has worked in mental health, education, and was an elected member and chair of the Wake County Board of Education.
# # #
**FOR IMMEDIATE RELEASE**
For review copies or interview requests, contact:
Megan Hardesty
317.602.7137
mhardesty@=(at)bohlsengroup(dot)com