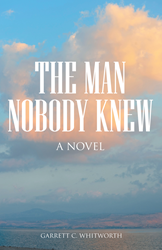 I wrote this book so that I can know Jesus (the man) better, and help others to know him better as well
LOS ANGELES (PRWEB) August 24, 2016
Many people have read the Bible's Gospel account of Jesus but have trouble relating to it. However, in his new book, "The Man Nobody Knew," author Garrett Whitworth brings the story of Jesus to life using John, one of Jesus' most trusted disciples, as the narrator giving his first person account of Jesus' life on earth.
"The Man Nobody Knew," is a historical novel about the life of Jesus, faithful to the Gospel story. Through John's eyes, readers are taken on a compelling road trip from Nazareth to Jerusalem where they can come to know Jesus and be transported back to the time and place of the man and events that changed the course of world history.
"I wrote this book so that I can know Jesus (the man) better, and help others to know him better as well," said Whitworth. "I chose to write in first person for the purpose of helping the reader to feel as if he or she were right there, in every scene, as an eye-witness to the most important events in world history."
Author Garrett Whitworth grew up attending Christian schools off an on from the first grade through college. "I am certainly not a theologian," he said, "and this book is not about Christian theology. It is about a man, the most important man who ever lived. I wrote it for people who have never even heard of him and for those who may know about him but want to know him better."
For more information, visit http://www.themannobodyknew.net
The Man Nobody Knew
By: Garrett Whitworth
ISBN: 978-1-5127-3992
Available in softcover, hardcover, e-book
Available on Amazon, Barnes & Noble and WestBow Press
About the author
In 1986, Garrett Whitworth conceived of writing a historical novel about the life of a man who, arguably, changed the course of world history more than any other man or woman who has ever lived. This book is the result of his years of research. Whitworth lives in Southern California with his wife, Colleen.
# # #
**FOR IMMEDIATE RELEASE**
For review copies or interview requests, contact:
Megan Hardesty
317.602.7137
mhardesty(at)bohlsengroup(dot)com