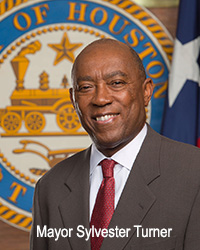 Houston, Texas (PRWEB) August 22, 2016
Mayor Sylvester Turner will welcome more than 100 Texas business, civic and education leaders to the Houston UNCF Mayor's Luncheon at noon, Friday, Aug. 26, at the Hyatt Regency Houston. The fundraising event supports UNCF's efforts in providing quality higher education for minority students. Dr. Michael L. Lomax, UNCF's president and CEO, will make opening remarks on UNCF's impact, and Turner will deliver the keynote address.
"I'm honored to support UNCF and its work as the nation's largest private scholarship provider to minorities," Turner said. "Education is an investment in the future. It opens doors of opportunity that can lead to fulfilling and lucrative careers."
Events such as the Mayor's Luncheon are vitally important in providing the necessary resources for Texas students to go to and through college. Last year's luncheon raised more than $40,000 in providing scholarships and operational support to UNCF-member institutions in Texas: Huston-Tillotson University, Jarvis Christian College, Texas College and Wiley College.
"UNCF remains steadfast in our determination to create a college-ready environment for our young people to succeed," Lomax said. "We charge our leaders to unite the community in the quest for higher education, thus securing a better future for us all."
Sponsors of the luncheon are Air Liquide, CenterPoint Energy, HEB Texas Grocery and Shell.
To purchase individual tickets, which are $150, contact Juana Collins at 713.942.8623 or juana(dot)collins(at)uncf(dot)org.
For more information or to stay connected, go to UNCF.org/houston or follow us at @UNCFHouston.
About UNCF
UNCF (United Negro College Fund) is the nation's largest and most effective minority education organization. To serve youth, the community and the nation, UNCF supports students' education and development through scholarships and other programs, strengthens its 37 member colleges and universities, and advocates for the importance of minority education and college readiness. UNCF institutions and other historically black colleges and universities are highly effective, awarding nearly 20 percent of African American baccalaureate degrees. UNCF awards more than $100 million in scholarships annually and administers more than 400 programs, including scholarship, internship and fellowship, mentoring, summer enrichment, and curriculum and faculty development programs. Its logo features the UNCF torch of leadership in education and its widely recognized motto, "A mind is a terrible thing to waste, but a wonderful thing to invest in."® Today, UNCF supports more than 60,000 students at more than 1,100 colleges and universities. Learn more at UNCF.org or for continuous news and updates, follow UNCF on Twitter @UNCF.