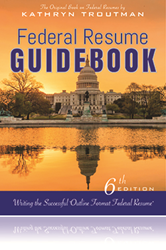 As this public health crisis grows, the federal government is hiring professionals in many occupational fields to fight the dangerous virus. Kathryn Troutman
Washington, DC (PRWEB) August 22, 2016
New York is spraying for mosquitoes in Manhattan. The Centers for Disease Control and Prevention has advised pregnant women and their partners to consider avoiding Florida's Miami-Dade County altogether. One-quarter of Puerto Rico residents could be infected by the dangerous Zika virus by the end of 2016. As this public health crisis grows, the federal government is hiring professionals in many occupational fields to fight the dangerous virus.
"Keep in mind that if you're interested in job announcements specific to Zika, you need to check in frequently; such openings may close within days, due to the emergent nature of this public health threat," says Kathryn Troutman, president of The Resume Place, a resume writing and federal job-search coaching firm. Of course, the career opportunity in public health is much broader than the fight against Zika.
"The impact you can have in the field of public health is immense," says Tim McManus, vice president for education and outreach at the Partnership for Public Service. American public health professionals have been instrumental in nearly eradicating polio and Ebola, McManus points out.
And the career opportunity is as deep as it is broad. Public health professionals in the civil service reap the benefits, stability and security of federal employment together with the excitement of working at the frontiers of science and medicine and making a difference.
What's the range of civil-service occupations in federal government?
Federal agencies employ professionals in many occupations relating to public health. Those helping to fight Zika will include many epidemiologists, microbiologists, pharmaceutical scientists, and medical analysts and advisors who develop prevention programs and provide support to state efforts, says McManus. Specialists in health communications, bioinformatics experts, allied health technicians and nurse practitioners and other clinicians may also be deployed.
In late August, the Department of Health and Human Services' CDC posted announcements in Public Health to fight Zika in four different roles, three of them in multiple locations across the country: health scientists, with a salary range of $59,246 to $160,300; epidemiologists, also paying $59,246 to $160,300; safety and occupational health specialists, $61,956 to $82,798; and health communications specialists, $59,246 to $154,000.
The Department of Health and Human Services is posting some Zika-related job announcements using so-called direct hire appointment authority that is scheduled to continue into February 2017. This authority "expedites hiring by eliminating competitive rating and ranking, and veterans' preference…," according to the Office of Personnel Management. Local authorities in areas affected by Zika outbreaks are anxious for Congress to approve funding for a major expansion of the war against the virus.
"If you work on Zika, you might be working with people in CDC, USAID, the Department of State," says McManus. "You've got the opportunity to grow your own network."
Public health professionals are always needed.
From communicating with pet shops and their customers about the dangers of small turtles carrying salmonella, to tracing the source of milk contamination, U.S. public health workers are always working urgently to protect the lives and health of Americans and people around the globe. On a typical day, there are hundreds of federal public health jobs posted.
Many other federal departments and agencies employ professionals whose responsibilities comprise or include public health duties. The Food and Drug Administration, the National Institutes of Health, the Veterans Administration and the Department of Agriculture's Food Safety and Inspection Service are among the federal entities with public health responsibilities.
How you can maximize your chances of getting a federal public health job.
As with most federal jobs, the process of applying for a civil service position in public health is complex and demanding.
"It's critical to prepare a detailed resume in the federal format, supply all required documentation, follow instructions to the letter, and do in-depth preparation for interviews," says Troutman, author of Federal Resume Guidebook 6th Edition.
"The federal government invests a ton in its employees," says McManus. Even for public health professionals who don't seek a career-long commitment to the civil service, a stint with the federal government can be a great career move.