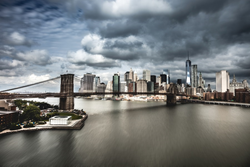 New York, NY (PRWEB) August 22, 2016
FirstService Residential, New York's leading property management company, has produced an all-inclusive "Hurricane Preparedness Guide for Residents and Building Staff in New York City Multifamily Properties." Created by the company's in-house experts, the guide is an invaluable tool designed to help all multifamily properties weather any storm.
"The potential for a hurricane to impact New York City is greatest from August to October," said Dan Wurtzel, president, FirstService Residential New York. "Our Hurricane Preparedness Guide provides residents, building staff and board members of condominiums and cooperatives with crucial information, resources and checklists to help ensure there is a solid plan in place to protect the property and its residents."
FirstService Residential's Hurricane Preparedness Guide offers insightful recommendations to protect the safety of all residents and the value of each property. The guide includes resources for residents such as emergency supply and go bag checklists, instructions for what to do if a storm approaches or if you are ordered to evacuate, and how to proceed once the hurricane is over. For building staff, it includes emergency supply checklists, pre- and post-storm checklists, and how to prepare for and restore the property after a flood. It also includes contact information and links to important New York City resources.
To download the guide, go to http://www.fsresidential.com/nyhurricaneguide.
About FirstService Residential
FirstService Residential is North America's largest manager of residential communities and the preferred partner of HOAs, community associations and strata corporations in the U.S. and Canada. FirstService Residential's managed communities include low-, mid- and high-rise condominiums and cooperatives, single-family homes, master-planned, lifestyle and active adult communities, and rental and commercial properties.
With an unmatched combination of deep industry experience, local market expertise and personalized attention, FirstService Residential delivers proven solutions and exceptional service that add value, enhance lifestyles and make a difference, every day, for every resident and community it manages. FirstService Residential is a subsidiary of FirstService Corporation, a North American leader in the property services sector. For more information, visit http://www.fsresidential.com.