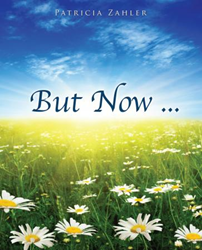 . I sought truth and freedom, but the love that came with it was an unknown given
Schaumburg, IL (PRWEB) August 24, 2016
Within the pages of Patricia Zahler's new book, But Now ..., ($10.99, paperback, 9781498473002; $5.99, e-book, 9781498473019) the author tells her emotional life story and how she survived abuse, abandonment, and heartbreak. She openly explains to readers how she spent her lifetime looking for truth and freedom – truth from people, truth from religion, truth about God, and truth of God. She was shocked at what she learned on this path to happiness. She discovered that walking with God would give her the strength to heal her broken childhood. Her story reminds readers who have endured similar childhood trauma that they are loved – freely, unconditionally and forever – by God. Her inspiring story proves that one can overcome their pain with the help from God's Word.
Patricia considers herself one of society's "throw away children." The very day a young person turns their county or city's age requirement, they are out the door and it doesn't matter where they go. As a teenager, she desired freedom. She wanted to conquer the world. Unfortunately, without the understanding of what truth and true freedom really was, the world conquered Patricia. One day, she read a sign on a church lawn that said, "Ye shall know the truth and the truth shall set you free." Those words resonated within Patricia and never left her heart. Those powerful words were like seeds planted by God that would later grow and bloom – and lead her on a quest for truth. She prays that what she learned on her incredible journey will help readers seek Truth as found in the Way, the Truth, and the Life (John 14:6).
"I want to 'move mountains' in the lives of people," states the author. "My struggles are not unique but my results are those of a lifetime of searching for the truth that is the truth. I can do no less than want to share what is the truth with anyone who has sought for it at any time. I sought truth and freedom, but the love that came with it was an unknown given."
Patricia spent her childhood from age five until about age forty, trying to make sense of what seemed to be very many contradictory statements within the Holy Bible. For 12 years, she actually gave up on religion, but life's broken experiences taught her that she needed more than herself – bankrupt physically, spiritually, and emotionally. God was the only place that she had left to go. As she entreated His direction within His Word in the Holy Bible, previously seeming contradictions began to be understood as they were put in light of where they belonged. The remaining years put the Bible into God's perspective.
Originally from Canada, Patricia now resides in Illinois. She happily spends much of her time with her family, especially her daughter and two grandchildren. Patricia has had a lifelong interest in natural health. She also works with art forms that incorporate nature: wood, clay, watercolors, and glass weathered by the waters of lakes and oceans. She creatively adds inspiring Bible verses to the finished designs.
Xulon Press, a division of Salem Media Group, is the world's largest Christian self-publisher, with more than 15,000 titles published to date. Retailers may order But Now ... through Ingram Book Company and/or Spring Arbor Book Distributors. The book is available online through xulonpress.com/bookstore, amazon.com, and barnesandnoble.com.
Media Contact: Patricia Zahler
Email: patczahler@gmail.com