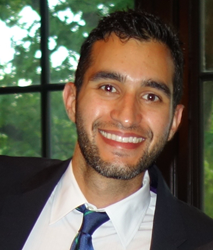 "I'm excited to join this group that shares my passion for patient care and excellence."
San Antonio, TX (PRWEB) August 23, 2016
In 1994 PRMA was founded by two eager plastic surgeons ready to serve the breast cancer community by offering advanced breast reconstruction procedures. Today the practice is one of the leading breast reconstruction practices in the world and has grown to seven surgeons with the addition of Dr. Ramon Garza III.
To date, PRMA has performed over 7,000 state of the art breast reconstruction procedures on patients post mastectomy or lumpectomy. The practice continues to welcome patients from across Texas and around the world!
Garza says he is "excited to join this group that shares [his] passion for patient care and excellence."
Garza is a Corpus Christ native and studied medicine at Baylor College of Medicine in Houston where he solidified his interest in plastic surgery after seeing the profound impact plastic surgeons have improving patient lives'.
Garza's academic journey led him to a plastic surgery residency at Lehigh Valley Health Network in Pennsylvania. During his residency he perfected his skill in complex reconstruction including the DIEP flap. To gain further knowledge and experience, Garza furthered his training by doing a microsurgery fellowship at Ohio State University. Here he worked alongside world-renowned microsurgeons performing complex microsurgery including cutting edge lymphedema surgery.
His specialized training led him to PRMA where he joins plastic surgeons Peter Ledoux, Steven Pisano, Chet Nastala, Minas Chrysopoulo, Gary Arishita, and Oscar Ochoa, performing the latest microsurgical breast reconstruction techniques such as the DIEP flap.
Dr. Garza is available for appointments at PRMA's Medical Center office located at 9635 Huebner Road, San Antonio, TX 78240. To schedule call 800-692-5565