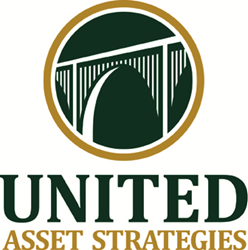 Planning for the Possibilities®
Garden City, New York (PRWEB) August 23, 2016
We wanted to take this opportunity to share some wonderful news. United Asset Strategies has been ranked by Forbes as one of America's Top Wealth Advisors for 2016!
Over 11,000 firms met the basic criteria to be considered, with United coming in at 182. A number of different factors were reviewed to bring that number down to the top 200. Industry experience, assets under management, revenue trends, compliance records, and best practices learned through telephone and in-person interviews were all among the criteria used to determine this honor for United.
SHOOK Research (http://www.shookresearch.com) developed the Forbes ranking of America's Top Wealth Advisors. As stated by Forbes, "SHOOK Research creates rankings of role models – advisors that are leading the way in offering best practices and providing a high-quality experience for clients."
Click here for the link to the full article.
As always, it is our pleasure to be an integral part of your financial lives. We are extremely proud of this designation and will continue to live up to the honor it represents.