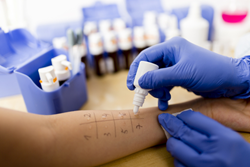 Asheville, North Carolina (PRWEB) August 24, 2016
Allergies affect more than 50 million Americans. Finding out what you are allergic to is an important first step to effective allergy treatment. When combined with a detailed medical history, allergy testing can identify the specific things that trigger your allergies. Today, allergy tests are more convenient and accurate than ever. As with any medical test, however, allergy testing has certain pitfalls and risks that highlight the need to have the testing performed and interpreted by an expert in the field.
There are two basic types of allergy testing, skin testing and blood based allergy testing. Both have pros and cons that should be considered. With both types of testing, it is very important to understand that a positive test by itself does not prove that you are allergic. To be allergic, the positive test must match your history.
Skin Testing
Background: First introduced in 1865, allergy skin testing remains the gold standard for diagnosing allergic sensitization. There are two types of skin testing. Skin prick testing involves placing a drop of a suspected allergen (or extract) on the skin and scratching or pricking the surface of the skin. Intradermal testing involves injecting a small amount of extract just under the skin, similar to how a Tuberculin skin test is performed. A positive reaction to either test will appear as a small, slightly raised red bump.
Pros:
1. Quick – Many allergens can be tested at the same time and results are read in 10-15 minutes.
2. Comfortable – Both skin prick and intradermal testing involve very minimal discomfort, although a positive test can be itchy for several minutes.
3. Accurate – When performed with high quality extracts and by a trained technician, allergy skin testing is the most accurate test for allergy diagnosis.
Cons:
1. Antihistamines – Certain medications, particularly antihistamines, will interfere with the results of skin testing. Patients taking such medications will be asked to stop taking them for 3-7 days prior to testing.
2. Allergic Reactions – Although very rare, skin testing can trigger symptoms of an allergic reaction. It is important, therefore, that such testing be performed under the supervision of an allergy specialist.
3. Underlying skin conditions – Some skin conditions, such as severe eczema or hives, may make skin testing impractical.
Tricks of the Trade:
1. Skin testing should be performed to allergens that are native to the area and that are suggested by the patient's history.
2. Extracts used for testing should be of superior quality and potency.
3. The skill of the skin testing technician can have a tremendous impact on the results of skin testing.
4. The results of skin testing should always be taken in conjunction with the patient's history.
Blood Testing
Commonly called RAST testing, blood based allergy testing looks for evidence of antibodies (IgE) against suspected allergens. There are a number of different technologies available for such testing. Unfortunately, the results of these different technologies are not interchangeable and should be compared to one another with caution. In addition, there are a number of other blood based tests that are advertised as allergy tests but whose clinical value has not been proven. As with skin tests, a positive result on a blood based test does not, by itself, mean that you are allergic.
Pros:
1. One needle stick – A single needle stick is sufficient to draw enough blood for testing.
2. Antihistamines – Medications do not typically interfere with results, so blood based testing may be better suited for those patients who cannot stop taking these medicines.
3. Underlying skin conditions – In patients with severe eczema or hives, blood based testing may be preferable.
Cons:
1. Time – Blood based test results are generally not available for several days.
2. Cost – Blood based testing is more expensive than skin testing.
3. Variation in testing – Testing may vary from lab to lab so the results are not interchangeable and the doctor ordering the test should be familiar with the performance of the lab's particular test to interpret the results accurately.
The Allergy Partners Difference:
All Allergy Partners physicians are Board Certified or Board-Eligible allergist-immunologists. This means that they have years of additional training and experience in the diagnosis of allergy. They are experts in the field of aerobiology – knowing what pollens, molds and other allergens are common in a given geographic location. They are experts in allergy skin testing and ensure that all Allergy Partners skin testing technicians meet the highest standards for accurate, comfortable testing. In addition, our doctors are experts in the interpretation of the various blood based allergy tests available.
Most importantly, Allergy Partners physicians are expert historians. An allergy test, by itself, has very limited value. The correct diagnosis of allergy depends on a comprehensive, thoughtful medical history. When you or a loved one are seen at Allergy Partners, our physicians will take a detailed medical history focusing on symptoms, triggers and exposures, and perform a careful physical exam. This information will help the doctor determine which allergens should be tested and which type of test is most appropriate. He or she will then interpret the test results in light of the history and physical exam. With a clear diagnosis of allergy, your Allergy Partners physician will work with you to develop a personalized treatment program that focuses on avoidance of allergy triggers and prevention of symptoms, coupled with judicious use of medications, and, when appropriate, immunotherapy (allergy shots).
Allergy testing is the first step to finding relief for many allergy sufferers. Allergy Partners offers you the confidence that your allergy testing will be done according to the highest standards and provide the most accurate results possible.