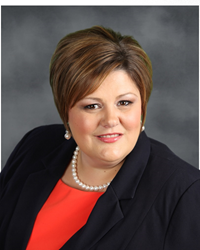 "My work has given me a tremendous opportunity to work with some of the most inspiring people in our industry and to help make a positive impact in our community."
(PRWEB) August 23, 2016
ST. LOUIS, August 22, 2016---Lori Eaton, President of NextGen Information Services, was recently named to the prestigious list of St. Louis Business Journal's Most Influential Business Women. The 2016 annual luncheon and award ceremony honoring 25 St. Louis women business leaders was held, Friday, August 12, at the St. Louis Union Station. The award honors women who have helped grow the St. Louis business community while making a positive impact with local charities and nonprofit organizations.
"I am so honored to be included in such an accomplished group of dedicated and enterprising women," Eaton said. "My work has given me a tremendous opportunity to work with some of the most inspiring people in our industry and to help make a positive impact in our community. An award such as this can only be shared with the people who have helped me through the years…my team and all of my NextGen family."
With more than 200 nominations, the 2016 class of 25 women represent a diverse set of industries and backgrounds throughout the St. Louis region and were selected by previous recipients of the distinguished honor. More than 600 people attended this year's event which was sponsored by the University of Missouri-St. Louis and TierPoint.
Eaton is the President of NextGen and is responsible for developing international strategic initiatives and expanding the firm's global interests with the expansion of the company's services, programs and capabilities. Previously NextGen's Vice President, Eaton, 41, has more than 20 years of industry experience and leads a tenured recruiting team and sales force that boasts more than 300+ consultants, $75+ million in revenue and a solid reputation in the industry. Established in 1997 and Eaton joined the firm in March of 2000. In her tenure with NextGen, Eaton has spearheaded innovative outreach programs, including the We Care Initiative, Recruit A Veteran (RAV), Diversity Works, Next Dimensions and the Next Step Program…all designed to build a sustainable workforce and in support of charities, philanthropy, entrepreneurship, scholarship, and civic progress. Her newest program, CHAMBA USA, is designed to expand NextGen's Hispanic talent network with recruitment efforts in Mexico.
Eaton is a member of numerous professional groups and organizations including, the Partnership for Downtown St. Louis, the Regional Business Council, the Young Professionals Network, the Hispanic Chamber of Commerce, and The Professional Women's Alliance, the Human Resource Management Association and a member of the Multicultural Society of the United Way. Eaton has been featured by the Diversity Journal's Women Worth Watching, by Small Business Monthly as an A-Player and by St. Louis Women's Journal article, Inspiring Women. She has also been named as a Woman of Distinction by the Missouri Athletic Club, one of 100 St. Louisans to Know to Succeed In Business and has been a distinguished mentor for the St. Louis Business Journal's Mentoring Monday. She is also a featured media resource in St. Louis, for tech news and hiring practices.
About NextGen
NextGen Information Services, Inc. is a leading talent engagement firm specializing in information technology and Professional Services providing Fortune 500 companies, small businesses and emerging tech organizations with a diverse talent community. The $75+ million company headquartered in St. Louis, has satellite offices across the country and 300+ billable consultants. The firm has been named Missouri's Minority Business of the Year by Governor Nixon, one of the top privately held companies and fastest growing companies in St. Louis by the St. Louis Business Journal, Hispanic Company of the Year by the Hispanic Chamber of Commerce of Metropolitan St. Louis and ranked 43rd in the Top 500 Women Owned Businesses in the US for 2016. The firm has also been awarded by Ernst and Young, Enterprising Women Magazine, along with numerous honors from Inc. Magazine, Diversity Inc. and Diversity Business. The company has a tenured recruiting team and sourcing division responsible for placing more than 4,000 people with companies across the United States. NextGen Information Services, Inc. is a Certified Minority and Women-Owned Business Enterprise and Certified by the State of Missouri and the Minority Supplier Development Council.
NextGen Information Services, Inc. visit http://www.nextgen-is.com
Contact: Michelle Clark
Email: michellec(at)nextgen-is(dot)com
Phone: (314) 333-5370
News Contact: Jeanine O'Connor at Griffin Consulting
Email: jeanine2144(at)hotmail(dot)com.