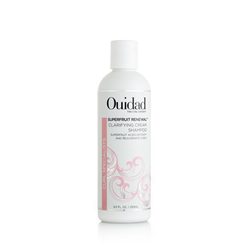 "In 2002, I was diagnosed with breast cancer, the same disease that took my mother's life. Fortunately, I was treated and made a full recovery, but I vowed to never let recovery be the end of my battle," explains Ouidad
New York, New York (PRWEB) August 24, 2016
Ouidad champions the fight against breast cancer, announcing the company's 2016 charitable campaign in support of the Breast Cancer Research Foundation (BCRF). For the past 14 years, Ouidad's Curls for a Cure foundation has committed 100% of its fundraising dollars to BCRF and has donated nearly half a million dollars to date. This year's program aims to push the fundraising envelope even further to fuel the advancement of breast cancer research in the hopes of, together, finding a cure.
"In 2002, I was diagnosed with breast cancer, the same disease that took my mother's life. Fortunately, I was treated and made a full recovery, but I vowed to never let recovery be the end of my battle," explains Ouidad, the founder of the 'curl experts' haircare line known for its professional curl education program, extensive product range, and bi-coastal prestige salons.
Inspired by Ouidad's own experience with the disease and the loss of her mother to breast cancer, the company fundraises year-round through Ouidad.com and Flagship salon sales of its KRLY® Kids product collection, which includes: No Time For Tears Shampoo, No More Knots Conditioner, Pump & Go Spray Gel (retail prices, $15 each). Ouidad donates $1 from each KRLY® Kids purchase to BCRF, in the hope that someday, no child will have to lose a parent to this disease. Additionally, throughout October, with any purchase of Superfruit Renewal Clarifying Cream Shampoo from Ouidad.com, $2 will be donated to BCRF.
Ouidad also matches dollar-for-dollar any donations made to its Curls for a Cure foundation, up to $50,000 per year.
About Ouidad
All curls are not created equal. With a unique customized approach for each curl type—loose, classic, tight, and kinky curls—Ouidad has been renowned as the professional "Curl Experts" for over thirty years. Our certified salons, water-soluble and layerable products, trademarked cutting and styling techniques, and focus on trends and inspiration empower you to understand, enhance, and transform your curls. Love your curls, be envied. #Ouidad
For more information, visit Ouidad.com.