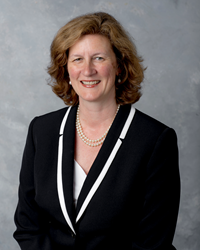 Boston, MA (PRWEB) August 23, 2016
Coverys is pleased to announce the appointment of Elizabeth Hartley Johnson, MD, MS, to the Medical Professional Mutual Insurance Company board of directors.
Dr. Johnson has over 16 years of experience in healthcare leadership and nearly 20 years of clinical practice experience in internal medicine. Dr. Johnson currently serves as the CEO for MaineHealth Accountable Care Organization, a position she has held since 2013. In this role, Dr. Johnson has spread her passion for building and supporting a community model of healthcare that is value-based, integrated, and patient-centered. Through teamwork across the health system, she has helped facilitate the recent transition from an established physician-hospital organization to an integrated accountable care organization (ACO) advocating for a culture of accountable care, provider engagement, transparency, and achievement of the Institute of Healthcare Improvement's Triple Aim.
"As Coverys continues to respond to the needs of the evolving industry, Dr. Johnson's proven ability to successfully lead an organization through a transition to an ACO brings an admirable addition to our board. Her experience in the delivery of care in many settings will bring a new perspective to our work," said Brenda E. Richardson, MD, chair of the board of directors.
Prior to her joining the MaineHealth Accountable Care Organization, Dr. Johnson served as the chief medical officer at Martin's Point Health Care in Portland, Maine, and as chief of internal medicine and adult urgent care at Harvard Vanguard Medical Associate's Kenmore Center in Boston, Massachusetts.
In addition to her work for MaineHealth, Dr. Johnson is currently the chair of the Onpoint Health Data board of directors and a board member of Quality Counts. She has served on various boards including the MMC Physician-Hospital Organization, and partner organization, Community Physicians of Maine boards. Dr. Johnson obtained a Master of Health Care Management from Harvard School of Public Health, a Doctor of Medicine from Vanderbilt University School of Medicine, and a Bachelor of Arts from Bowdoin College. She currently resides in Cumberland Foreside, Maine, with her husband and their two sons.
About Coverys
Coverys is a leading medical professional liability insurance provider dedicated to protecting the livelihood of physicians, hospitals, dentists, podiatrists, and advanced practice providers. Coverys uses data intelligence to help policyholders anticipate, identify, and manage risk in order to reduce errors, eliminate inefficiency, and improve outcomes.
Headquartered in Boston, Massachusetts, Coverys has regional offices in East Lansing, Michigan; Rockville, Maryland; Morristown, New Jersey; Columbus, Ohio; Maple Valley, Washington; and Omaha, Nebraska.